23 February, 2023
GRAIL WATCH 6: De Bethune DB25 Perpetual Calendar 40mm 'Rhapsody in Blue'
Chapter Three of Grail Watch champions the best in independent watchmaking.
WORDS WEI KOH
Dude, on the wrist this watch is simply incredible. It fits perfectly. The diameter is amazing. At first, when I heard we were reducing the diameter from 44mm to 40mm, I thought that the height at 11.3mm might be a bit thick. But on the wrist, it is perfectly balanced. The indications are all still perfectly visible! It's a masterpiece. Damn, now I have to save up my money to hopefully have one, one day."

When a brand's head of sales is so smitten by a watch he's just released that he now wants to join the dauntingly long wait-list to one day own this piece, that says a hell of a lot about its irrefutable beauty. But that was exactly the reaction of my friend Jörg Hysek Jr. as we examined the palette of ravishing nuances and signature De Bethune codes that made up the new De Bethune DB25 Perpetual Calendar 40mm. And I had to agree with him too.
Above, from left: Pierre Jacques, CEO of De Bethune; Denis Flageollet, co-founder and watchmaker; Jörg Hysek Jr., head of sales and business development
Witnessing this extraordinary achievement by one of horology's greatest living geniuses, Denis Flageollet, I was similarly consumed with desire to own it. But not just any DB25 Perpetual Calendar 40mm — of which independent watchmaking's hottest brand will make just 15 pieces a year, causing the close to 100 times more people who want one to wait patiently for their allocation — but a very special version of this watch made in just three commercial examples, with one additional piece for me. How had I somehow garnered the immense privilege of collaborating with Flageollet, Hysek and De Bethune's CEO Pierre Jacques on this special series? Well, the genesis of this 40mm perpetual calendar was a conversation I had with Jacques and one very famous watch collector Ahmed "Shary" Rahman two years ago.
Shary Rahman is one of the nicest human beings on the planet, a fact attested to by his many friends. He is also a man of supreme taste, sartorially resplendent in his Terry Haste, Cifonelli and Edward Sexton bespoke suits and with an array of horological finery on his wrist that places him at the very top echelon of global collectors. He is the owner of a very special 40mm DB25 Starry Sky in platinum. He explained, "Mo Coppoletta [the acclaimed tattoo artist] showed me his De Bethune DB28 pièce unique and I was immediately smitten with the brand. The horological language was so distinct. It is like when you hear music created by a true genius and the voice is so original, distinct and pure.
"When I was in Geneva during Watches and Wonders, I went to visit Pierre Jacques and asked to commission a DB25 Starry Sky. At the time, the watch was made primarily in the 44mm diameter. As it happened, he showed me a few examples and one was a considerably smaller 40mm version with a platinum gem-set case that they had created for a female client. I tried it on and the size was perfect. I asked if my watch could be made in this size and after he briefly consulted with Denis, he agreed. When I received this watch, I was just amazed at its beauty and fell totally in love with its size and proportions. Then during the COVID pandemic, we found ourselves in a Clubhouse chat on De Bethune with Pierre Jacques and Jörg Hysek Jr."
Grail Watch 6, our limited edition collaboration with De Bethune features the DB25 Perpetual Calendar in 40mm with a stunning blue dial
Genesis of a Star Piece
While it seems like a distant memory now, during the initial lockdowns perpetuated by the global COVID pandemic, we were all desperate to connect with other human beings. Those of us in the watch community, in particular, yearned to speak with our friends from around the world. As such, at Revolution, we decided to start a series of group chats on the Clubhouse platform. I knew that, without a doubt, I wanted one of my first topics to be on "De Bethune — The Next Big Thing." I strongly felt that this extraordinary brand capable of such dizzying feats of horological prowess had been flying under the radar for so many years. But finally, as the world grew re-enchanted with independent watchmaking and new collectors had time to read in-depth articles about real watchmaking, I felt that the world was poised to embrace De Bethune in a big way. During these Clubhouse chats, myself, Rahman, Coppoletta and Austen Chu, founder of Wristcheck.com, all professed our love for the brand. While many of us were focused on the DB28, at some point, the subject turned to the DB25.
DB25 Starry Sky is a neo-classical take on watchmaking with its beautiful rendition of a star-studded sky
Presented in a stunning Starry Sky version in 2010 alongside the then newly created DB28, the DB25 represented a new era for De Bethune. Previous to this, the brand had created a multitude of references, but it was the ambition of Pierre Jacques to simplify and focus De Bethune's watches into two key models. The DB28, with its mobile lugs and forward facing movement and crown at 12 o'clock, would represent Flageollet's avant-garde side. The DB25, which was first introduced in 2007 with its pierced fixed lugs and traditional crown placement, would represent his more neo-classical personality. In 2011, De Bethune launched the DB25 Perpetual Calendar, which to me has always been the flagship model for this case shape. Why? Well, be-cause it is the natural successor to the legendary DB15. This legendary timepiece was launched in 2004 and represented a true watershed moment for the brand. It was the world's first perpetual calendar wristwatch with a three-dimensional moonphase indicator and it featured Flageollet's in-house balance wheel as well as his triple pare-chute shock absorption system. Looking at the DB15, you will see that the dial-side configuration for Flageollet's perpetual calendar, with moonphase and leap year indicator at 12 o'clock, date at six o'clock, day at nine o'clock and month at three o'clock, have remained largely unchanged from the 43mm in diameter DB15 to the 44mm DB25 Perpetual Calendar seven years later.
Showcasing De Bethune's avant-gardist aesthetic is DB28 that displays the brand's proprietary balance wheel on the open dial
As our Clubhouse conversation got more heated, Rahman suddenly professed a desire for a DB25 Perpetual Calendar but, instead of 44mm, at the perfect 40mm diameter. Over the last five years, many of us have been championing the return to more classical dimensions and felt that the perfect size for a complicated watch would be at this nexus. This idea was soon sup-ported by several other voices on that chat, including Coppoletta and Chu. But to a large extent, I felt the idea to be largely theoretical. The reason that so many brands are taking a while to return their watches to more modest case diameters is the following: The huge boom in in-house movement development happened during the early 2000s, a period when oversized watches were still very much of a trend. As such, many brands are effectively stuck with movements that are too large for them to make their watches significantly smaller as market tastes now demand. But then Pierre Jacques telephoned me and said something that had me marvel at the true verticalization and manufacturing depth represented by De Bethune. He ex-plained, "I spoke to Denis and we think we can make the perpetual calendar 40mm."
Grail Watch 6: De Bethune DB25 Perpetual Calendar 40mm "Rhapsody In Blue
De Bethune's Unique Competencies
Let's pause here to underscore precisely what this entailed. First of all, it meant an all-new movement as the baseplate of the current caliber DB2324 would simply be too large. Secondly, it meant that all components from the case to the dial, to the hands and indicators, would all have to be newly crafted to create a perpetual calendar in this dimension. Said Pierre Jacques, "We are willing to create this series for you as you have always been a strong champion of the brand. However, it means we will have to develop an all-new movement, so I'm going to suggest we will make a 'regular production' version of this watch as well, which we also feel represents the tastes of the buyer today." Overcome with excitement and gratitude, I could only gush out my agreement to this. And even after several hours, I still couldn't believe that the extraordinary Denis Flageollet had agreed to undertake this project.
Grail Watch 6: De Bethune DB25 Perpetual Calendar 40mm "Rhapsody In Blue
At the time, of course, I had no idea that the pandemic would last two full years, and in that time I had the opportunity to visit Sainte-Croix to interview Flageollet on my own and also to participate in the film Seeking Perfect, in collaboration with my friend Todd Searle, which I feel beautifully captures Denis' unique vision of watchmaking poetry. I remember at Geneva Watch Days walking into the De Bethune presentation at the Hotel Beau Rivage and reveling in the beauty of the "regular production" watch (if you can call 15 pieces a year regular) with Hysek. I had never worn a perpetual calendar that was simultaneously so arresting in beauty and so effortless on the wrist. The ease of use came from the ergonomics of the case and its feather-weight grade 5 titanium material, which has been high polished with De Bethune's signature virtuoso ability. Victoire Halter, who is Denis' step-daughter and Vianney Halter's daughter, has recently been polishing a lot of titanium for her father's Resonance watch, which uses the material for its bridges. She tried to get Flageollet to unveil the secrets of De Bethune's mastery over this material. She laughingly shared, "He wouldn't tell me."
DB25 Perpetual Calendar 40mm
The dial of the production DB25 Perpetual Calendar is bicolored with a central section separated into 12 fan-shaped areas applied with guilloché à main and a large silver rehaut that has been colored blue. The polished steel hands arc imperiously over this rehaut and follow the curve delineated by its form. At 12 o'clock, we have the moonphase indicator crafted from a sphere of palladium and steel, where the steel has turned blue thanks to a hand heat treatment. The sphere sits inside a disk of flame blued titanium fitted with hand applied gold stars. Integrated into the display is the watch's subtle leap year indicator. The moonphase is accurate to 122 lunar days. At six o'clock is the large legible date indicator read off a high polished steel hand. And at nine and three o'clock, you will find day and month respectively.
The DB25 Perpetual Calendar 40mm features a well-balanced dial with silver guilloché main and blue elements that are a signature of De Bethune
Flip the watch over, and you will find the new version of the caliber DB2324 down from 35mm to 30mm in diameter, which is a massive change. Says Pierre Jacques, "This is a testament to what we are capable of at De Bethune.
Few brands would be able to drastically reduce the size of a movement to create what is effectively an all-new model, one that is perfect for the tastes of today's customers that want a more classic sized watch. We are able to do this because of all the in-house competencies that Denis has developed over the last 20 years. I like to think of this watch as a celebration of those two decades. Our journey has not always been easy, but we have always created watches with integrity and purity."
A closer look at the new version of the caliber DB2324 that drives Grail Watch 6: De Bethune DB25 Perpetual Calendar 40mm "Rhapsody In Blue"
Fitted to the movement is Flageollet's signature balance bridge with anti-shock devices on either side. Together with the absorber for the balance wheel, this comprises his triple pare-chute system. The balance wheel is itself a work of artistic expression coupled with technical innovation. It is a single wheel of flame blued titanium fitted with six white gold opposable weights, while the hairspring features a proprietary terminal curve to aid in concentric breathing.
DB25 Perpetual Calendar 40mm "Rhapsody in Blue"
With its dark blue navy dial, Grail Watch 6 is a "Rhapsody in Blue" indeed
When it came to our version of the DB25 Perpetual Calendar 40mm, we opted for the same grade 5 titanium case coupled with a dark navy blue dial that adds a dash of dramatic nocturnal élan to the design. Paired with a glossy navy alligator strap, the resulting watch is a touch dressier and more formal than the sporty bicolored dial model. Since De Bethune is fond of music-referenced nicknames such as "Kind of Blue" or "Yellow Submarine," we decided to bestow the sobriquet "Rhapsody in Blue" to this watch, because when I look at it, I cannot help but hear the refrain of Gershwin's signature melody.

To me, it is one of the crowning achievements of De Bethune's design vision coupled with its nearly unrivaled history in technical innovation. It is also a testament to a friendship with the brand and the incredible people behind it, including Flageollet, Jacques, Hysek as well as the amazing communications team led by Ouldouze Nadiri and marketing manager Tifanny Poupaert, and of course its legendary co-founder David Zanetta, that has spanned close to two decades. And for that I am immeasurably grateful. I hope those of you reading this accept my apologies as with only five pieces produced, these watches are already spoken for, with one of them going to the man that was at the very genesis of this project, Ahmed "Shary" Rahman. But I wanted to share the story with you, nonetheless.
TECHNICAL SPECIFICATIONS

Grail Watch 6: De Bethune DB25 Perpetual Calendar 40mm
"Rhapsody In Blue"
Movement: Self-winding caliber DB2324V2; 120-hour power reserve
Functions: Hours, minutes and perpetual calendar with spherical moonphase
Case: 40mm; grade 5 titanium; water resistant to 30m
Dial: Blue hand-guilloché, with 12 radiating sectors and De Bethune star-studded sky in blued titanium, inlaid with rose gold stars; curved hour, date and moonphase rings with silver relief Roman numerals
Strap: Glossy navy blue alligator; titanium pin buckle
Price: CHF 130,000
Availability: Numbered and limited edition of five pieces
Wei Koh

In 2005, Wei founded Revolution magazine and revolutionized the watch media, which has never been quite the same again. He has since developed Revolution into a multi-media, omni-channel platform with international editions around the world. He is also the creator of The Rake, a magazine of sartorial elegance and craftsmanship for the modern-day gentleman. Journalist at heart and entrepreneur in spirit, his latest venture is Grail Watch, dedicated to the creation of meaningful limited edition watches.
Related Posts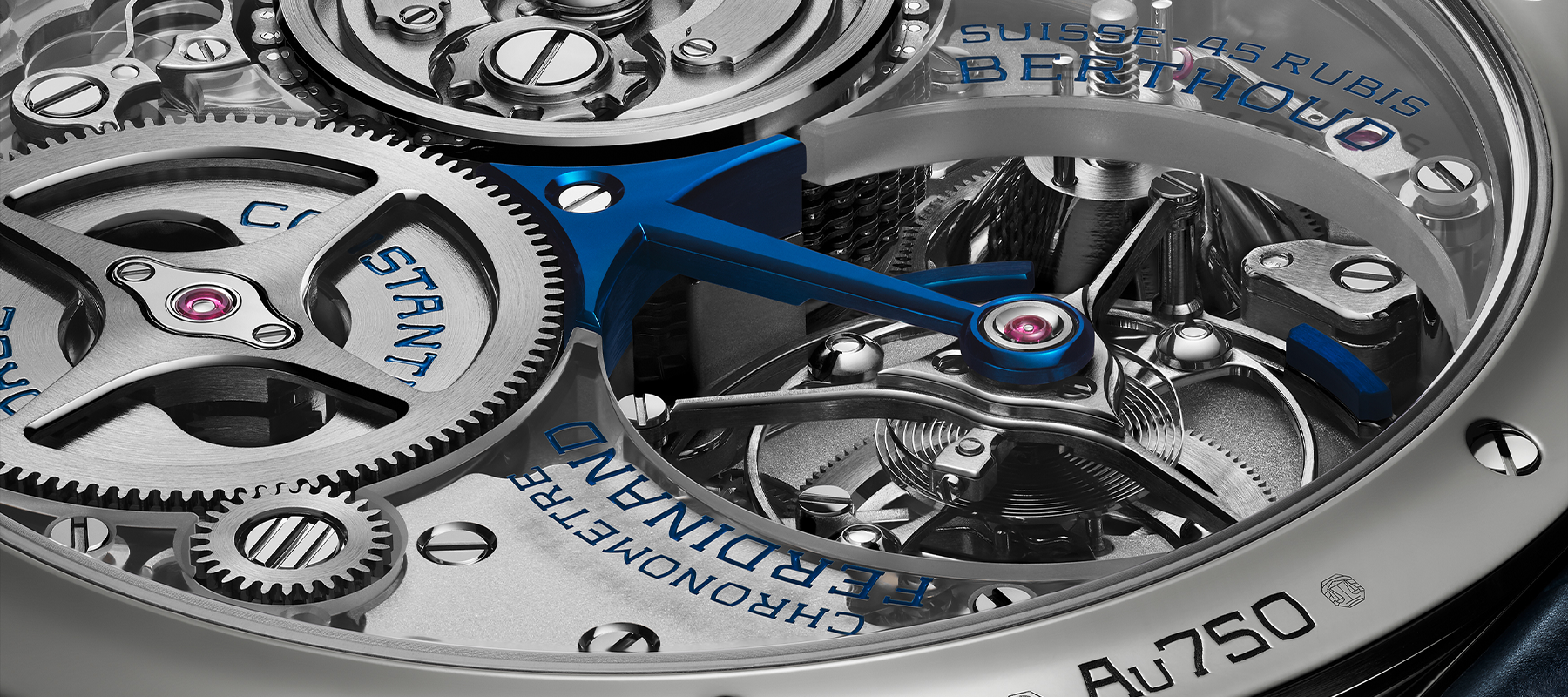 Sep 11, 2023 GRAIL WATCH ADMIN
Learn about the Maltese Cross Mechanism and its many uses in haute horlogerie.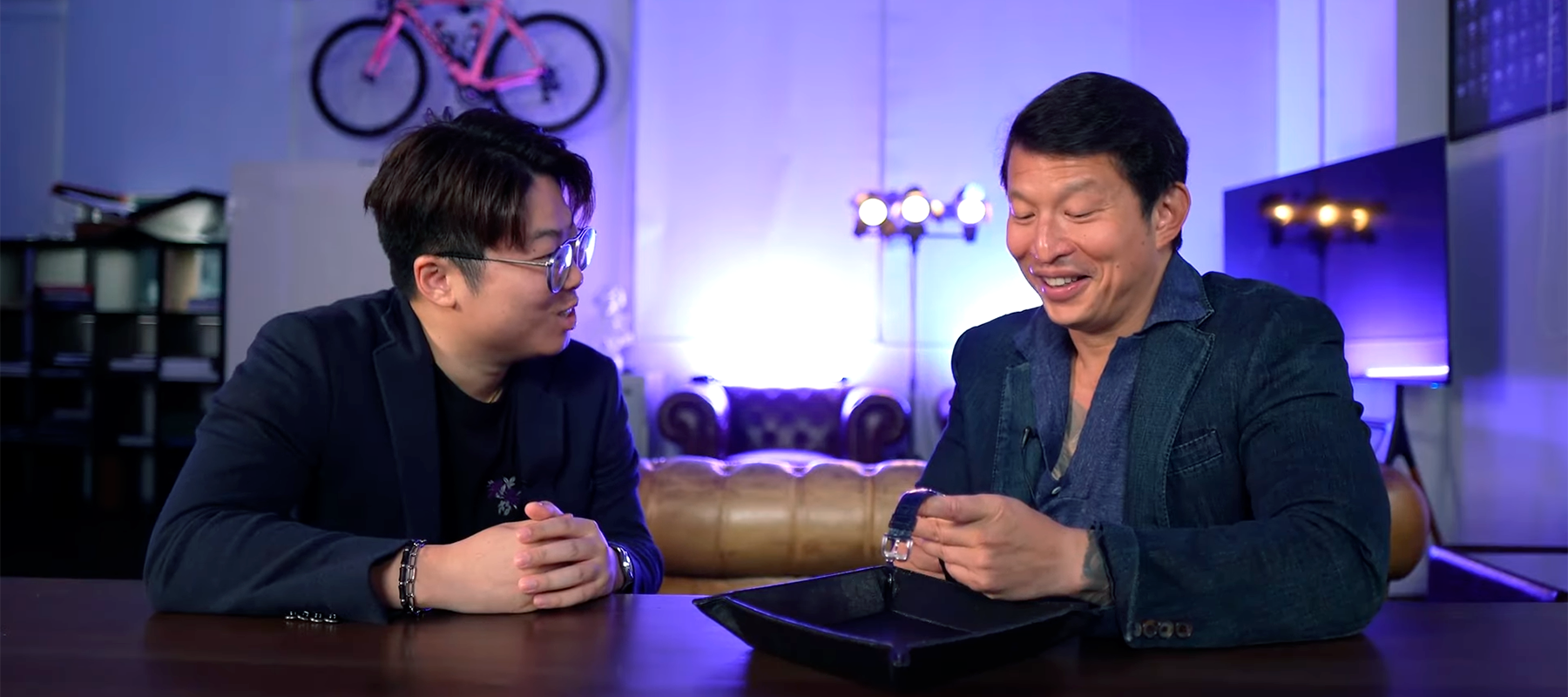 Aug 24, 2023 GRAIL WATCH ADMIN
Join Wei and Constant as they embark on a journey to relive the captivating story behind the creation of the Grail Watch 10: Ludovic Ballouard Et Fils Upside Down 'Series Gaga'.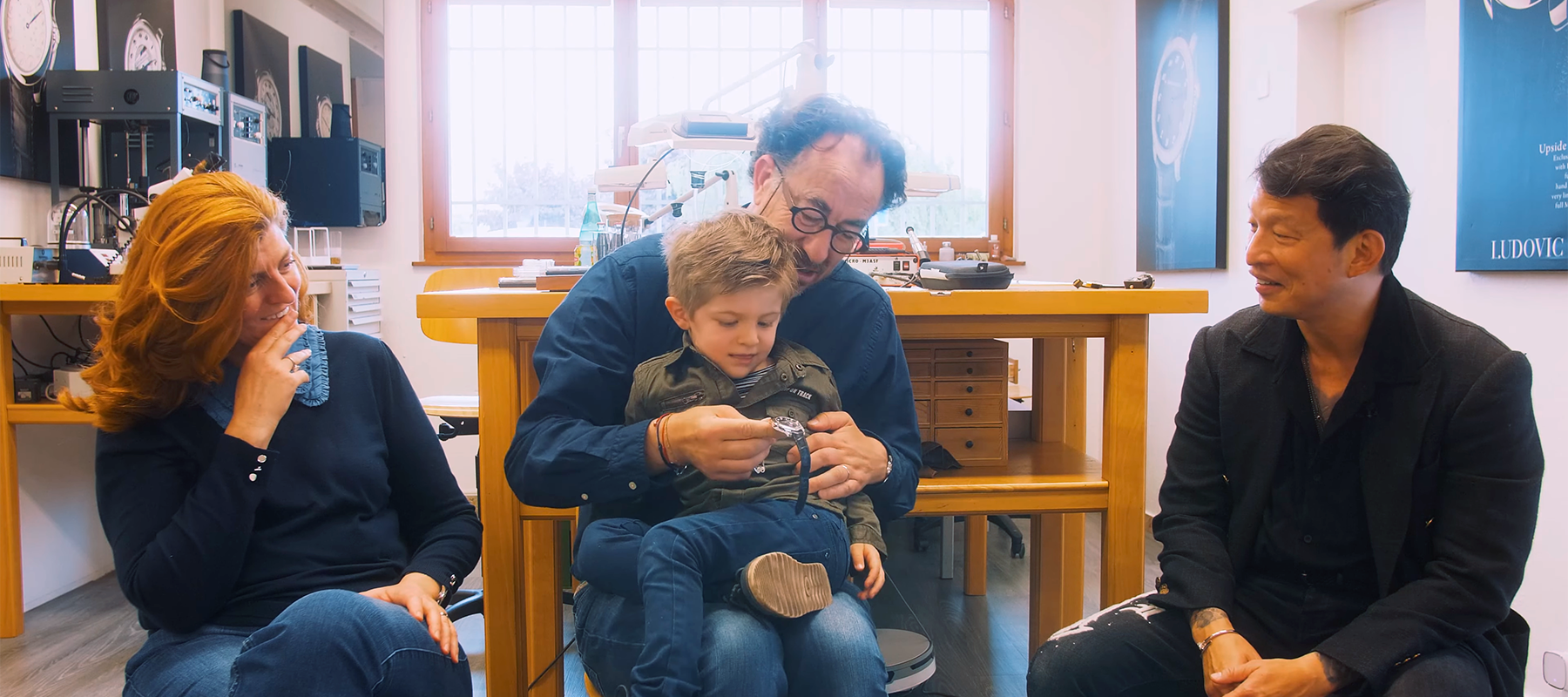 Aug 23, 2023 GRAIL WATCH ADMIN
Wei is in conversation with Ludovic Ballouard to talk about Grail Watch 10: Ludovic Ballouard Et Fils Upside Down 'Series Gaga' that holds special significance as it serves as a tribute to Ludovic's son, Gabriel, the gift from the universe as mentioned by the esteemed watchmaker.