November 15, 2022
GRAIL WATCH 2: FRANCK MULLER 30TH ANNIVERSARY 'TRIBUTE' CHRONOGRAPHS
Grail Watch resurrects three iconic chronographs — featuring new old-stock Lemania movements and a double sided rattrapante — as tribute to Franck Muller's incredible design creativity.
WORDS WEI KOH
The world is clearly in the throes of a tumultuous love affair with all things '90s, like the Porsche 993 Turbo S and the Ferrari 550 Maranello. It seems like everyone wants to cruise around in one of these wonderfully nostalgic machines, blasting Stone Temple Pilots' "Interstate Love Song" on their CD player while letting our chin-length hairstyles blow back in the wind.

The '90s has also been recognized as a halcyon era for watches. Sports models such as the Dino Modolo designed Vacheron Constantin Overseas and IWC Porsche Design Titanium Ocean 2000 dive watches were trending in a big way. In the realm of dress watches, some of the most avidly collected timepieces are early Roger Dubuis and Franck Muller Lemania-based chronographs. While the Roger Dubuis Lemania 2310 driven H40 Hommage Chronographs have become widely known, the more obscure and decidedly under-the-radar Franck Muller Lemania 1874 Chronographs from the same era are just beginning to be recognized as the historically significant unicorns that they are. What is particularly interesting is that these watches are the clear precursor to a trend for vintage Patek 1463 or "Tasti Tondi" tribute-style chronographs that are more popular than ever today.
Franck Muller
In the '90s, the king of independent watchmaking and unrivaled rockstar of haute horlogerie was none other than Franck Muller. The original enfant terrible, Muller was a wunderkind of 20th century watchmaking. The independent watchmakers that came before George Daniels and Derek Pratt were brilliant but reserved academics that labored over pocket watches. Similarly, Daniel Roth was an extraordinary watchmaker but also largely self-effacing and timid. Brash, bold and fearless, Franck Muller was the very first watchmaker to rapidly generate international renown and develop a huge following amongst fashion and Hollywood's glitterati, with everyone from Gianni Versace to Elton John soon becoming evangelical devotees. There was the famous dinner in Los Angeles celebrating Elton John's birthday where guests were each seated before a covered dish. At the appropriate moment, the covers were whisked away revealing a stunning Franck Muller watch that was the legendary musician's gift to every one of his guests.
FRANCK MULLER'S WATCHMAKING
Born to an Italian mother and Swiss father in La Chaux-de-Fonds, Muller entered watchmaking school at 15 years of age and literally blazed an incendiary trail, leaving many urban legends in his wake. One of the most famous is that after winning a Rolex watch for achieving the top prize at the Watchmaking School of Geneva, he took that watch and transformed it — using just a few more wheels — into a perpetual calendar. He managed to get an appointment with Rolex where he showed them the watch, hoping to sell them his design. Unfortunately, they turned him down. However, over his early career, it appears he produced a few of these timepieces, one of which ended up on the wrist of Jay-Z.

Rolex Datejust Perpetual Calendar modified by Franck Muller (Image Credit: LiveAuctioneers)

In the '80s, Muller worked with Svend Andersen, restoring many Patek Philippe vintage watches for both private clients and also for the Patek Philippe Museum. From 1984, Muller began to create his own wristwatches, including the first tourbillon with the whirlwind mechanism on the dial side. In 1991, Muller launched his eponymous brand and, for a solid decade, was totally unrivaled in the realm of complicated innovations. The tradition was that each year he would unveil a "World Premiere," such as the 1997 grande et petite sonnerie minute repeater with perpetual calendar and equation of time.

His watches were also mind-blowingly cool from a design perspective, using either his round case or his famous Cintrée Curvex with ravishing stylized Arabic numerals. If the Patek Philippe brand can be personified as an actual person who had an equally talented but decidedly more rock and roll Latin sibling, those watches would be his creations.

Amongst Muller's most famous watches is the Master Banker, a timepiece that even by today's standards is a work of genius, as it allows the reading of three time zones simultaneously, where all three zones are infinitely adjustable and can be easily set using just the crown. Muller was also the first to create a truly emotionally expressive watch with his famous Crazy Hours, a watch with an apparently random jumble of digits on the dial that always tells the right time. He also set the stage for his manufacture's status as the king of the tourbillon complication with his Revolution 1 to 3 complications.
Franck Muller Master Banker 5850 MB (Image Credit: Watchstox)
But of the various complications, Muller was truly passionate about the chronograph. His most famous interpretations of this complication are his Double Sided Chronographs. He explains, "I always loved chronographs and was fascinated that using this sweeping seconds hand, you could read so many different types of information. You could calculate your average speed over a kilometer or mile with a tachymeter. You could calculate a person's heart rate within 15 beats using a pulsometer. And you could gauge the distance to a physical event (you start the chronograph, for example, when you see lightning strike and stop it when you hear the sound) using a telemeter.

Grail Watch 2: Franck Muller 30th Anniversary 'Tribute' Double Sided Rattrapante Chronograph
"But the problem for me was that I always wanted to have all this information on a single chronograph. There are some watches that place multiple scales on the dial of the watch, but that ends up being very messy and hard to read. One day I had the idea of creating a chronograph with two dials, one on the front and one on the back of a watch. Then I would create a longer pinion connecting the chronograph hands on both dials. The advantage would be you could use the second dial purely for the scales, combining a tachymeter, telemeter and pulsometer so they were truly visible."

In recent years, these Franck Muller Double Sided Chronographs are gaining a following. I was surprised to see my friend, the owner of Singapore's The Hour Glass, Michael Tay — who possesses one of the world's greatest watch collections, including a Patek caliber 89, George Daniels' Space Traveler and a first-series Asprey double signed Patek 2499 — wearing one of these double sided Franck Muller chronographs on his wrist.

While these were made in different versions, the most interesting amongst them are the split seconds or rattrapante iterations — for one very intriguing reason. Said Franck Muller to me many years ago when I went to spend the week with him in his villa in Phuket, Thailand, "You know, I created a modification to the Valjoux 7750 movement to incorporate this split seconds function for our watches." For the longest time, I had thought that the only person to have achieved this was Richard Habring in 1992 while he was working for IWC. It was interesting to me that Franck Muller had devised his own version of the Valjoux-based split seconds movement, which is called the Franck Muller caliber 7000.

I was so intrigued by this watch that we decided to resurrect it, along with two other Lemania-based "Tribute" Chronographs in a 39mm steel case.
1990S FRANCK MULLER LEMANIA-BASED CHRONOGRAPHS
Franck Muller Sport Chronograph Limited Edition (Image Credit: A Collected Man)
So what of the Breguet numeral, Lemania-based Franck Muller Chronographs? What's the story behind these, you ask?

Says Silas Walton, founder of A Collected Man and the first person to recently identify, piece together the history of and sell these watches, "What we do know about these Franck Muller Chronographs is that they emerged in the '90s and were made in two configurations. There was a silver dial, two-counter version with applied Breguet '12' and '6' and applied dot markers. This watch was 36mm in diameter. And then there was a black dial version with three counters with an applied Breguet '12' and applied dot markers as well, and this watch was 37mm in diameter."

Says Nicholas Rudaz, CEO of Franck Muller Watchland, "These watches were all commissioned by an Italian retailer in the '90s. They were made in small series of either 40 or 50 watches each time. In some versions, the number of the watch was actually printed on the dial."

The design characteristics of these watches were a clear tribute to Patek Philippe — in the same way that the Roger Dubuis Hommage was clearly, as the name expressed, a nod to the legendary Patek chronograph references 130 and 1463 of the '40s and '50s. The cases were smooth and rounded with long elegant lugs and concave bezels. Pushers were pump-style while the crowns were large and flat. Both the bi-compax and tri-compax watches featured the use of the Lemania 1874, a shuttle cam-operated, laterally coupled chronograph movement introduced to the Speedmaster back in 1969. This movement was the successor to the column wheel-activated 2310 designed by Albert Piguet in the 1940s, and because its cam was much easier to set up, it was considered more reliable.
CEO of Franck Muller Watchland Nicholas Rudaz and Head of Design Jean-Loup Glénat
Indeed, it seems that it is in the choice of the case material and movement that we see the different intentions of the Roger Dubuis Hommage and the Franck Muller Chronographs. While the former was created exclusively in precious metal and features a Geneva Seal Lemania 2310 and a see-through caseback, the Franck Muller watches were made with steel cases, featured the workhorse Lemania 1874 and had solid casebacks.

Says Benjamin Dunne of Watch Brothers London, who has also helped to raise awareness of and make the market for these Franck Muller watches, "It's clear to me that the intention between these watches was very different. The Roger Dubuis was made to be a direct competitor with the Patek Philippe, while the Franck Muller, made in steel and even rated as 'antimagnetic,' was meant to be much more of a daily wearer and something that was more sporty."

What is even more interesting is that both these watches were created well before the Patek 5070, which was launched in 1998. They came during the 30-year gap between the 1463 and the 5070. To my mind, these watches were clearly created to fill the niche for a stunning manual wind pure chronograph, which many collectors then thought that Patek Philippe had decided to stop making.
Patek Philippe 1463 (Image Credit: Phillips)
Roger Dubuis Hommage H40 Chronograph (Image Credit: A Collected Man)
1990s Franck Muller Sport Chronograph Limited Edition (Image Credit: A Collected Man)
This must have been an incredible time of creative richness for Muller. He recalls, "I was contacted by an Italian retailer who said that all his collectors wanted a watch like the ones that were made in the past and that no one was really making at the time. I thought about it and began to design a kind of 'Tribute' chronograph. After some discussion, we decided we should make them in steel, and that we should make them antimagnetic so that they could be worn for people that liked auto racing, or similar activities — a really sporting type of gentlemen's chronograph. Because of that, I also decided to use the very dependable Lemania movement as the engine. But, of course, these movements were purchased as ébauches and totally transformed by us to meet the Franck Muller standards with really nice finishing."
From left: 1990s Franck Muller Sport Chronograph Limited Edition (Image Credit: A Collected Man); Grail Watch 2: Franck Muller 30th Anniversary 'Tribute' Bi-Compax Chronograph
From left: 1990s Franck Muller Sport Chronograph Limited Edition (Image Credit: A Collected Man); Grail Watch 2: Franck Muller 30th Anniversary 'Tribute' Tri-Compax Chronograph
FRANCK MULLER 30TH ANNIVERSARY BI-COMPAX AND TRI-COMPAX CHRONOGRAPH
Says Jean-Loup Glénat, head of design at Franck Muller Watchland, "We were really excited to work on this project with you. It tells the story of an important part of our history and shows how creative Franck Muller was in the context of the era. Immediately, we retrieved the vintage plans of the watch and started to discuss the designs."

The first thing the Franck Muller team and I discussed was size. We decided that while the older watches were 36mm and 37mm in diameter, we would make our watches 39mm. At the same time, we would stay extremely faithful to the case of the original watches using the same style, finish and the type of flat, oversized vintage-themed crown and large capped pushers. We also tried to make the cases as thin as possible so that they would sit elegantly on the wrist. One thing we decided on immediately was to distinguish these watches from the ones made in the '90s by creating fluted pusher caps, of the style used by François Borgel (purchased at this time by Taubert & Fils) when they made the cases for the 1463.
Grail Watch 2: Franck Muller 30th Anniversary 'Tribute' Bi-Compax Chronograph
The second thing we decided was that, while being incredibly faithful to the dial design of the original down to the texture, precise typography and colors used, we wanted to inject a dose of slightly more Latin sex appeal.

Says Glénat, "In order to do this, we played with enlarging the size of the applied Breguet numerals and applied indexes and subtly enhancing the sense of contrast from one section of the dial to the next. The idea was, someone would look at these watches and say, 'Wow, the design is really dynamic feeling,' even while not realizing it's because we made these small changes to the details. It would be hard to understand why you felt this way until you examined the modern watch next to an example from the '90s."
From left: Grail Watch 2: Franck Muller 30th Anniversary 'Tribute' Bi-Compax Chronograph and Tri-Compax Chronograph
Then came the very big question of the movement. Seated together at the big round table at Franck Muller Watchland, we began to discuss this. I immediately knew that using a thicker automatic movement to me wouldn't work as it would change the proportions of the case too much. At the same time, it is very well known throughout the watch industry that Swatch Group had stopped selling its ébauches, so Lemania movements were a no-go.

Then out of nowhere, something truly incredible happened. "Jean-Loup has a surprise for you," said Nicholas Rudaz with a cheeky grin. With that, the door opened and Glénat walked in and carefully set down a tray in front of me. I peered into it as my mind struggled to fully comprehend what I was perusing. There laid out in front of me were Lemania 1874 movements, all beautifully finished with Côtes de Genève and bearing the Franck Muller signature on their bridges.
Grail Watch 2: Franck Muller 30th Anniversary 'Tribute' Double Sided Chronograph
Said Glénat, "We searched our archives and we found a small quantity of new old-stock Lemania movements from the '90s. We've tested them and they are functioning very well. If we are going to make a real tribute to this early period of Franck Muller, why don't we put a piece of our history into each of these watches and house one of these vintage movements in every one of them?"

It was at this moment that my brain literally exploded. Said Rudaz, "It's very important for us that collectors understand that here at Franck Muller, when we do something, we do it with real integrity and authenticity. If we are going to make these 'Tribute' watches, then let's do a real tribute by making every one of these watches something truly special."
Grail Watch 2: Franck Muller 30th Anniversary 'Tribute' Bi-Compax Chronograph
Said Glénat, "What is really wonderful is that we checked and these movements were created during a period when Franck himself used to oversee the regulation and timing of the movements."

But the presence of such rare and historic movements brought up another creative dilemma for us. Glénat and I were both set on showcasing the movements contained within the "Tribute" Chronographs. At the same time, we wanted to keep the antimagnetic properties of the originals as this was so much a part of Muller's original intentions with the timepieces. Said Glénat, "I've done some research — the display casebacks, even with their sapphire crystals, could be classified as antimagnetic but, of course, a solid caseback would be better."
Grail Watch 2: Franck Muller 30th Anniversary 'Tribute' Tri-Compax Chronograph
In the end, it was Nicholas Rudaz who came up with the perfect solution. He said, "Look, this is an important watch for us and we want to really do something special for the collector who ends up with one of these. Why don't we do two casebacks? A solid and genuinely antimagnetic caseback which also allows people to engrave their initials or a message should they wish, and also a sapphire crystal display back, which allows them to see this piece of history contained within the watch."

We decided to pair these watches with simple calf straps, a vintage tan-colored one for the silver dial watch and a black one for the black dial watch as we felt these are what collectors would end up pairing them with anyway. When I showed the final watches to Franck Muller, explaining how the vintage pieces had generated so much excitement, he said, "It's really nice to see people appreciating the designs I created in the 1990s. The resulting timepieces are great and I hope collectors derive as much pleasure wearing them as I did creating them. The fact that the watches have the new old-stock movements is a nice bridge to our history and I really like this."
Then, something interesting happened. When asked which watch he preferred, Muller replied, "I like them both. So much so that I feel you should create a box set for these two watches for really passionate collectors." He paused, and added, "And actually since it is the 30th anniversary of the brand, I would even add a third reference: a double sided rattrapante, as this is my most famous chronograph."
FRANCK MULLER 30TH ANNIVERSARY DOUBLE SIDED RATTRAPANTE CHRONOGRAPH
Grail Watch 2: Franck Muller 30th Anniversary 'Tribute' Double Sided Chronograph
Says Nicholas Rudaz, "When Wei brought up the idea of the Double Sided Chronograph, a model we hadn't made in several decades, of course we were thrilled and delighted. What better time to do a tribute to this model than the 30th anniversary of the brand?" We immediately decided that we should do a 30-piece edition. But the question quickly became, in which dial configuration?

Glénat adds, "The rarest, most original and most visually stunning of the double sided rattrapantes is one where time on the front dial is shifted to the subdial at six o'clock. For us, this has always been a particularly beautiful design as it is a nod to the Master Banker which featured two time displays at 12 and six o'clock. But in the Double Sided Rattrapante Chronograph, it frees up the dial so that it is the chronograph and split seconds hand that basically occupy the maximum space, as they are the only hands mounted in the center."
Grail Watch 2: Franck Muller 30th Anniversary 'Tribute' Double Sided Chronograph
Says Muller, "That is definitely the rarest and most unique design and is a great choice for a tribute to my Double Sided Chronograph."

Says our partner on this project, Ron Jackson, president of Franck Muller USA, "It was clear that all three 'Tribute' Chronographs were incredibly strong in terms of design. So much so that I felt that watches 1 to 10 should be sold as box sets and be an exclusive to US collectors."

Nicholas Rudaz shares, "What a way to celebrate our 30th anniversary and what a poignant tribute to Franck, whom we feel is one of the greatest creative minds to have ever worked in this industry."
Grail Watch 2: Franck Muller 30th Anniversary 'Tribute' Double Sided Rattrapante Chronograph
"These three chronographs were made with great sensitivity and respect to the past and we hope they will be a bridge between our history and a new generation of collectors," adds Glénat, The Lemania bi-compax with silver dial and the Lemania tri-compax with black dial in 39mm steel case will each be made in 50 examples, following the original allocation numbers from the '90s. The double-faced rattrapante with a steel 39mm case will be made in just 30 pieces. Watches 1 to 10 of each timepiece will be sold together in box sets of three watches, while watches numbered 11 to 30 of the Double Sided Chronograph and 11 to 50 of the two Lemania-based Franck Muller Chronographs will be sold as individual pieces.
For me, this project has really been a dream come true. I set up Grail Watch as a company to create the most ambitious limited edition watches that have ever been made. We unveiled our first chapter earlier this year named "Dream Collaborations," with Grail Watch 1, which was a collaboration between Ressence and Alain Silberstein. We will, of course, revisit this chapter with other Dream Collaborations in the future.

Chapter 2 of Grail Watch is the "Revival of Past Icons." And we could think of no better watches to celebrate this chapter than the three amazing chronographs we've created together with Franck Muller. I would like to thank Vartan Sirmakes, Hratch Kaprielian, Ron Jackson, Nicholas Rudaz, Jean-Loup Glénat, Sassoun Sirmakes, and the one and only Franck Muller for their collaboration on this amazing project.
TECHNICAL SPECIFICATIONS
Franck Muller 30th Anniversary 'Tribute' Bi-Compax Chronograph
Movement: Manual-winding caliber MVT FM 2759; 40-hour power reserve
Functions: Hours, minutes, small seconds and chronograph
Case: 39mm; stainless steel; water resistant to 30m
Dial: Silver grené; applied dot hour markers and Breguet "12" and "6"
Strap: Brown leather; stainless steel pin buckle
Price: USD 19,500
Availability: Numbered and limited edition of 50 pieces
Franck Muller 30th Anniversary 'Tribute' Tri-Compax Chronograph
Movement: Manual-winding caliber MVT 2758; 40-hour power reserve
Functions: Hours, minutes, small seconds and chronograph
Case: 39mm; stainless steel; water resistant to 30m
Dial: Black grené; applied dot hour markers and Breguet "12"
Strap: Black leather; stainless steel pin buckle
Price: USD 20,500
Availability: Numbered and limited edition of 50 pieces
Franck Muller 30th Anniversary 'Tribute' Double Sided Rattrapante Chronograph
Movement: Self-winding caliber MVD FM 7000-CCRDF; 54-hour power reserve
Functions: Off-centered hours and minutes, small seconds and rattrapante chronograph with pulsometer, tachymeter and telemeter
Case: 39mm; stainless steel; water resistant to 30m
Dial: Sunburst black guilloché
Strap: Handsewn black alligator leather; stainless steel pin buckle
Price: USD 25,500
Availability: Numbered and limited edition of 30 pieces
Wei Koh

In 2005, Wei founded Revolution magazine and revolutionized the watch media, which has never been quite the same again. He has since developed Revolution into a multi-media, omni-channel platform with international editions around the world. He is also the creator of The Rake, a magazine of sartorial elegance and craftsmanship for the modern-day gentleman. Journalist at heart and entrepreneur in spirit, his latest venture is Grail Watch, dedicated to the creation of meaningful limited edition watches.
Related Posts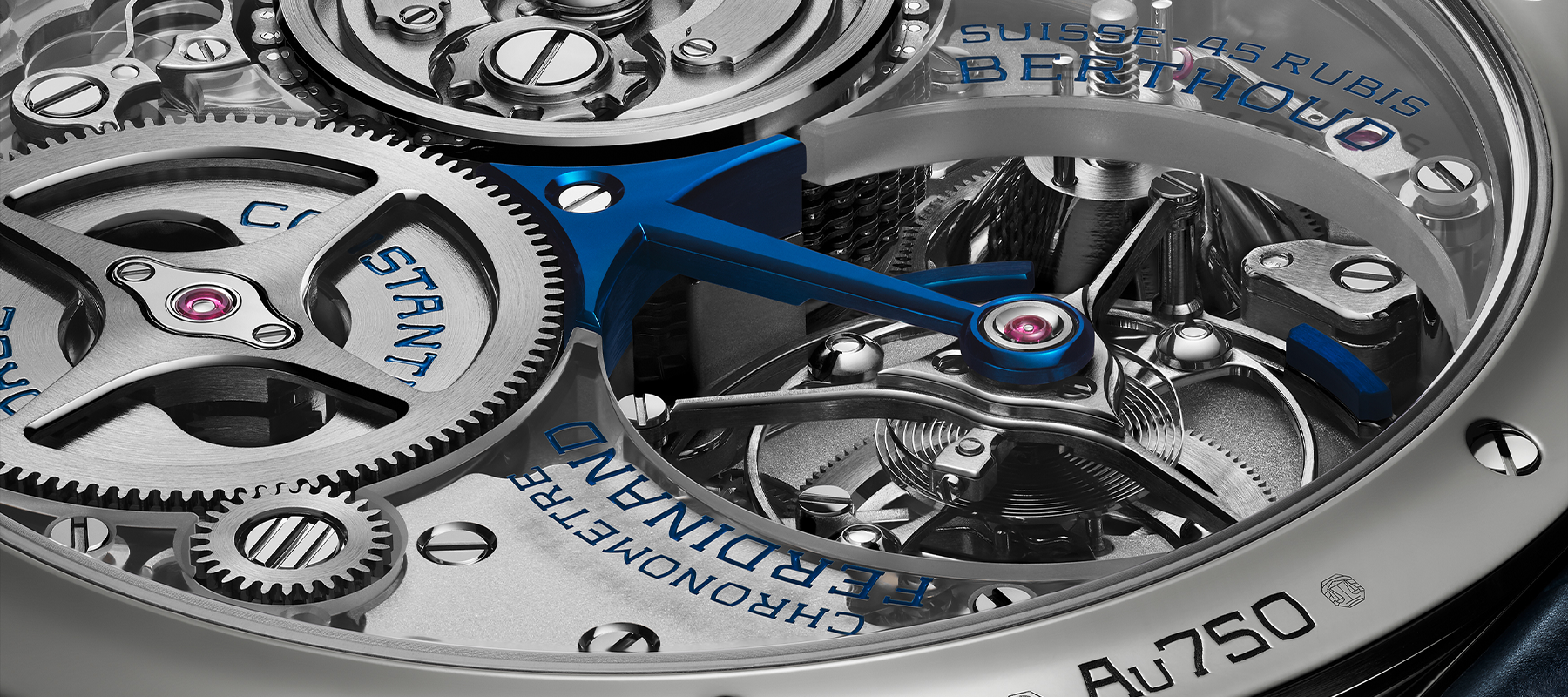 Sep 11, 2023 GRAIL WATCH ADMIN
Learn about the Maltese Cross Mechanism and its many uses in haute horlogerie.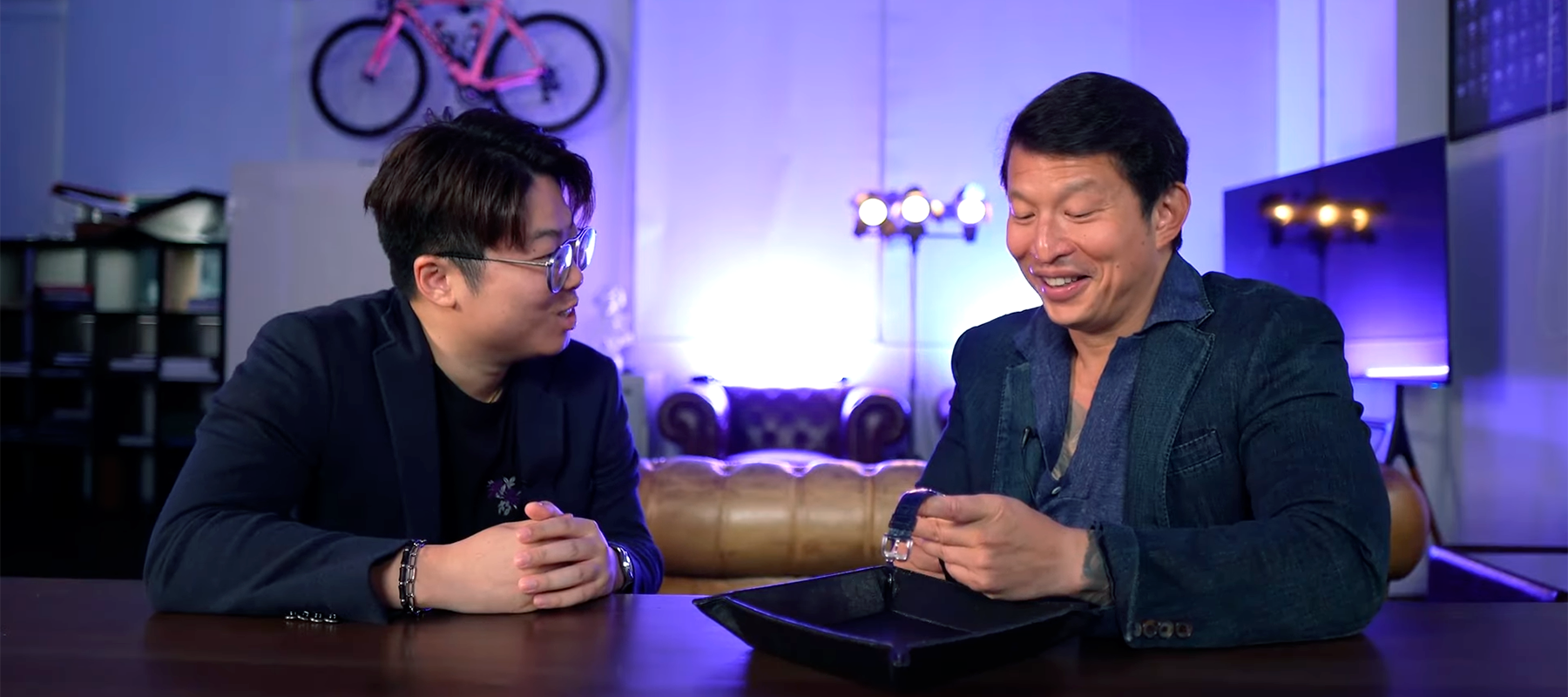 Aug 24, 2023 GRAIL WATCH ADMIN
Join Wei and Constant as they embark on a journey to relive the captivating story behind the creation of the Grail Watch 10: Ludovic Ballouard Et Fils Upside Down 'Series Gaga'.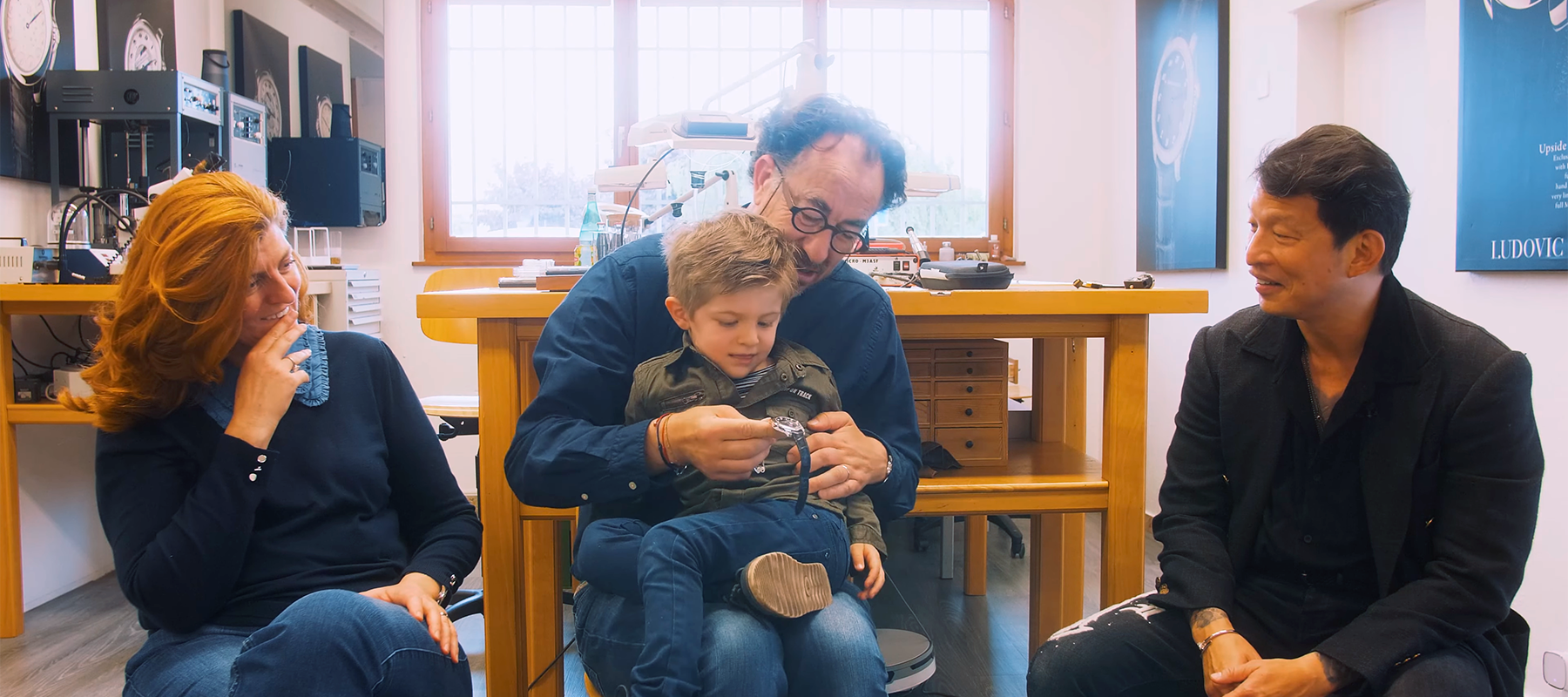 Aug 23, 2023 GRAIL WATCH ADMIN
Wei is in conversation with Ludovic Ballouard to talk about Grail Watch 10: Ludovic Ballouard Et Fils Upside Down 'Series Gaga' that holds special significance as it serves as a tribute to Ludovic's son, Gabriel, the gift from the universe as mentioned by the esteemed watchmaker.