10 February, 2023
Introducing GRAIL WATCH 5: CHRONOSWISS OPUS BLUE
The world's first serially produced automatic skeleton chronograph returns with a blue grade 5 titanium case and an arresting luminous signature.
WORDS WEI KOH
Grail Watch 5: Chronoswiss Opus Blue
The year was 1995. In cinemas, a face-painted Mel Gibson played Scottish freedom fighter William Wallace in the epic Braveheart; a young ingénue named Alicia Silverstone as Cher Horowitz navigated the precarious shoals of a Beverly Hills high school in Clueless; Martin Scorsese gave us the third installment of his Robert De Niro and Joe Pesci quadrilogy with the incendiary Casino; and Michael Mann set screens ablaze with what I contend is the greatest crime drama in cinematic history, Heat. But in the watch industry, the Swiss mechanical watch revival was only just gaining momentum.

The year before, Günter Blümlein had unveiled his vision for German watchmaking to contend with the Swiss horological juggernauts in the form of the Lange 1 and Pour le Mérite Tourbillon. In 1995, a cult Italian watch brand formerly the tool of the nation's naval diving unit, Officine Panerai, was just starting to gain mass appeal through its collaboration with actor Sylvester Stallone on the famous "Sly Tech" model worn in his film Daylight. Yet by 1995, Gerd-Rüdiger Lang, a watchmaker turned entrepreneur, was already 12 years into the highly successful trajectory of his brand Chronoswiss.
Gerd-Rüdiger Lang
Says Alain Silberstein, who caught the wave of revival and made his watchmaking debut in the 1980s: "One of my best friendships in the watch industry was with Gerd-R. Lang. People talk about many individuals being responsible for the return of mechanical watchmaking, but to me he was one of the most instrumental. Beyond that, he was a real visionary in terms of design and the creation of accessible complications. And he is a truly kind and wonderful individual."

Affirms industry legend Jean-Claude Biver, "I would say that Gerd Lang's contribution to the revival of mechanical watchmaking was huge. He brought new energy and designs with his regulator watches, and later the skeletonized watches like the Opus."
The original Chronoswiss Régulateur
'90s Horological Symbols
In 1995, Chronoswiss launched a timepiece that for me as a young man became the object of considerable obsession. This was the Opus, the first serially produced skeletonized automatic chronograph replete with date indicator integrated into the subdial at three o'clock. From the moment I first set eyes on this stunning timepiece in a Japanese watch magazine, I loved it.
The original Chronoswiss Opus from 1995
While it is inarguably commonplace today, in the context of the mid '90s, the idea of a skeleton chronograph where you could see all the wheels of the chronograph counters on the front and, of course, the entire chronograph train at the back, and where you could even witness the pulsating four-hertz balance wheel through the front of the watch, and in an era where mechanical watches were still on the rebound, this was as mind-blowing to me as it was for the citizens of Coventry to witness Lady Godiva's horse traipse through town with its mistress ensconced upon its back cloaked only in her dignity.
A limited edition iteration of the Chronoswiss Opus from 2020
By this time, Chronoswiss had already defined its core aesthetic blueprint, which remains in place to this day. Says the brand's current owner and CEO Oliver Ebstein, "This is characterized by a wide opening for the dial contrasted by a thin and very distinct fluted bezel. The caseband is straight and sharp and features elegant thin lugs that are given an added sense of muscularity with the screw-in spring bar holders, a detail from early 20th century officer's watches. The watch features our distinct fluted onion crown and, from the beginning, in 1982, every Chronoswiss watch includes a sapphire caseback to show the mechanical movement beating within."
A thin and distinct fluted bezel along with an instantly recognizable fluted onion crown are two Chronoswiss hallmarks
Collectors have been asking which '90s timepieces would come back into vogue. Roger Dubuis Hommage and Sympathie watches have already risen significantly. For me, the '90s were all about Daniel Roth, in particular the double sided tourbillon, Parmigiani Fleurier Torics, especially the perpetual calendars, Ebel BTR chronographs, especially the "Sonny Crockett" sports wave bracelet models with the Zenith El Primero movement, and, of course, '90s Franck Muller that Grail Watch commemorated last year with two vintage Lemania-based chronographs and a double sided rattrapante. But over the last year, I've also felt a wonderful sense of nostalgia related to the early Chronoswiss watches, in the same way that I've recently become obsessed with the Porsche 944 Turbo and 928 GTS.
REINVENTING AESTHETIC CODES
In the aftermath of the financial crisis, Chronoswiss went through several tough years. Finally in 2012, Gerd Lang looked for a suitable candidate to take over his family business. He found it in one of his clients, avid watch collector Oliver Ebstein. Over the last decade, I observed as Ebstein sought to connect the values of Chronoswiss with a watch industry that was evolving and gaining a new base with millennial and even Gen Z customers. To me, Ebstein started to gain traction and bring a real consolidated vision to Chronoswiss when he injected his own character into the brand. While still retaining the core aesthetic signature of the brand's seminal designs, he began to riff on these using vibrant colored cases and tone on tone dials.
Oliver Ebstein
The first watch that made me sit up and take notice was the Flying Regulator Open Gear "Pink Panther." Here the recognizable iconography of the Chronoswiss Regulator was suddenly transformed with the use of a black DLC-coated case, while the stunning guilloché à main dial — created on premises in Lucerne using an ancient rose engine machine — featured a stunning hot pink CVD coating. Says Ebstein when he showed me this watch, "I had wanted for some time to transform our watches into timepieces that are fun, easy to wear and have a sense of carefreeness to them. I like old things like my Ford Mustang Shelby GT500KR. When I am working on the car, or driving it around Lake Lucerne when the weather is nice, I want something that connects to this feeling of listening to rock and roll while driving a big V8 American muscle car."
The Chronoswiss Flying Regulator Open Gear "Pink Panther"
But even while adding color and a sense of pop art energy to his watches, Ebstein is always careful to preserve the value of the brand. He explains, "On the Pink Panther, we wanted to added a visible train to show how the hour and minute wheel on the regulator are connected. So we created this flying bridge that places the wheels of this train above the dial. You can see that the intermediate wheel and the hour wheel are both fitted on oversized rubies, [not only] to ensure their smooth running and long-term reliability, but also because it looks beautiful. But the masterpiece here is the guilloché à main dial. At our headquarters in Lucerne, we have two craftsmen that specialize in creating these stunning dials by hand. When it came time to color them, I wanted to ensure the stunning patterns were fully visible, so instead of plating them or using PVD, I decided to use CVD, which has a kind of translucent effect so you can see every detail with total sharpness."

With that, Ebstein began his stride at Chronoswiss. Suddenly, the Regulator that was created back in 1988 reappeared with a shimmering electric blue case, dial and hand set as a "Blue Steel" version. Then, with the addition of that three-dimensional bridge connecting the minute and hour wheels, replete with purple case and dial came the amusingly named "Purple Haze." Perhaps the most wildly libidinous of these watches was the recently released "Candy Shop," where almost every element on the dial receives a different color treatment. Says Ebstein, "We forged a partnership with a family-owned specialist company in La Chaux-de-Fonds."
From left: Chronoswiss Regulator Classic "Blue Steel"; Flying Regulator Open Gear "Purple Haze" and Open Gear ReSec "Candy Shop"
Soon, Ebstein began creating new complications such as the Space Timer, a watch that transformed the iconic Chronoswiss Regulator into the third dimension with the use of subdials that hover over a dial base and the addition of a domed moonphase indicator. The subdials are made of ITR2, or Innovative Technical Revolutionary Resin, a composite material based on carbon nanotubes that is eight times lighter than steel and four times lighter than titanium. Ebstein shares, "The last few years have been really good for us. Customers have responded in a strong way, and we feel an immense sense of gratitude that our watches make them happy and that we are able to continue the legacy created by Gerd Lang into the future."
From left: Featuring a gold-toned, nano-printed dial, the Space Timer Jupiter is a remarkable facsimile of the Solar System's largest planet; Chronoswiss Space Timer Moonwalk optimizes the brand's know-how in hand guilloché
Grail Watch 5: Chronoswiss Opus Blue
Grail Watch 5: Chronoswiss Opus Blue is a modern update on an icon
How did the Grail Watch and Chronoswiss project come about? This was due to Patrik Hoffmann and a friendship that dates back 20 years ago. I first met Hoffmann when I was tasked by Ulysse Nardin's visionary former owner Rolf Schnyder to write Making of a Masterpiece, the book commemorating the brand's 160th anniversary. At the time, Hoffmann was the head of Ulysee Nardin in the United States, and he would later become the brand's CEO. After the sale of Ulysse Nardin, Hoffmann left the company and eventually became a partner in WatchBox and the head of the secondary retailer's European operations. One day, he rang me up and asked me to come down to Lucerne to meet Ebstein and him. As fate would have it, he is also a board member of Chronoswiss. It was at this time that I looked at the early prototypes of watches like the Pink Panther and Purple Haze and started to smile. This was in 2020, the first time I was able to travel since the outbreak of the COVID pandemic, and something about these timepieces felt powerfully uplifting. Over the course of a bucolic Lucerne afternoon, the subject soon turned to a potential collaboration.
Grail Watch 5: Chronoswiss Opus Blue
I immediately said, "I know what model I would like to work on. I would like to make an Opus." Fortunately, we had a historic watch on hand. Our initial concept was to make a timepiece that looked exactly like the first watch from 1995 but with two big differences. Firstly, instead of steel, I wanted to use grade 5 titanium for its light weight. Secondly, I wanted the famous skeleton dial to look precisely like the original in the daylight, but when you went into ambient light or darkness, I wanted it to glow like crazy, so strong in fact — thanks to the liberal use of Super-LumiNova — that you could read all the indications and even use the chronograph. If you've followed the evolution of Revolution and Grail Watch limited editions, you'll know that the Luminous Signature of watches is something of a major obsession for me. The first watches focused around this theme were the Bvlgari Octo Finissimo GMT Chronographs — the "White Light" in a titanium case, and the "Nuclear Option" in a black ceramic case. We've also launched several accessibly priced watches, including a Bamford GMT Snoopy "Joe Cool" as well as a Jacques Bianchi "Méduse" that featured creative use of Luminova. At the end of last year, Grail Watch launched its collaboration with the incredible Trilobe, unveiling Une Folle Soirée, a watch where all the indications as well as every bevel of the movement's baseplate were painted with luminous material.
An arresting luminous signature
Fortunately, Ebstein liked this idea. After some discussion, he proposed we make the case 41mm instead of the 38mm of the original. I also wanted the skeleton (Valjoux-based) movement to be treated in gold just like the original watch from 1995. But once we finished this design, it felt like something was missing. Honestly, I felt like we had simply made a facsimile of the vintage watch. Thinking about it, I realized what I missed was the sense of chromatic energy created by Ebstein's input in recent years. If you know me, you'll understand that I have a penchant for blue watches, in particular the blue thermal-treated grade 5 titanium horological finery created by Denis Flageollet of De Bethune. My most recent acquisition has been a blue ceramic Audemars Piguet Royal Oak Perpetual Calendar, which I've had a very hard time taking off. So Ebstein and I went back to the drawing board and came up with the watch you now see, the Grail Watch Chronoswiss Opus Blue.
The grade 5 titanium case is CVD treated to create a beautiful translucency that showcases the finishes
Let's start with the case of this watch. While it was clearly inspired by the blue titanium finery of De Bethune, Ebstein and I knew we had to use a different technology and arrive at the different color to distinguish our watch from its source of inspiration. For this, Ebstein contacted his specialists. After much experimentation, he decided to use CVD treatment on the grade 5 titanium case. He explains, "This is still highly resistant but as it's a lighter colored coating than DLC, it creates a beautiful translucency where you can see all the finish on the case. It was important to us that the high polish applied to the pushers, bezel and crown contrasted by the vertical brushing applied to the caseband was still visible. The particularity about CVD is that it does react to wear and creates a kind of patina effect. However, as soon as you wash the watch, it returns to new. As such, we've paired the watch with a blue textile strap and stainless steel deployant clasp, so you can wear it while playing sports or even in the pool."
Instead of the 38mm of the original, Grail Watch 5: Chronoswiss Opus Blue is a modern 41mm
Once we achieved the right color for the case, we knew we had to find a matching blue for the dial. But the caveat was that this blue would emit a highly luminous signature in the dark. Says Ebstein, "We experimented a lot to find a color that was really cool looking in normal light but glowed brightly in the dark."

Finally, we had a lot of back and forth on the hands. My initial idea was to use blue steel units for the hours and minutes, and gold ones for the chronograph indications. My rationale was that they would be visible against the luminous background. But Ebstein decided instead to have highly luminous hour and minute hands. Once I saw these fitted to the watch, I was sold. It is incredibly cool to see these ultra bright hands glowing in a contrasting color to the already highly luminous dial. Says Ebstein, "When you explained to me about Luminous Signature and how this was one of the codes of your collaborations, I thought if we are going to do this, let's go all the way. The result is a watch that in its blue colorway is beautiful to behold in the light, and in the dark it transforms into an altogether different nocturnal animal powered by a high wattage dial and hands."
All the wheels of the chronograph counters are visible on the front, along with the entire chronograph train at the back
The Grail Watch 5: Chronoswiss Opus Blue is a watch that I am exceedingly proud of. Instead of a collaboration with the hottest and latest independent watchmaker, it represents a partnership with a brand I have a huge admiration for and that has made an invaluable contribution to the renaissance of mechanical watchmaking. With its blue grade 5 titanium case and luminous signature, which creates a delicious dynamic tension with the old-school gold skeletonized movement and its unique size, it is to me a truly appealing work of retro-modernism in horological form. It will be made in just 30 examples and priced at CHF 13,300.
TECHNICAL SPECIFICATIONS

Grail Watch 5: Chronoswiss Opus Blue
Ref: CH-7543T.2S-LU
Movement: Self-winding caliber C.741S; 46-hour power reserve
Functions: Hours, minutes, small seconds, chronograph and date
Case: 41mm; blue CVD-coated grade 5 titanium; water resistant to 100m
Dial: Skeletonized with luminescent coating
Strap: Marine blue Cordura textile with stainless steel folding clasp; additional marine blue calf leather
Price: CHF 13,300
Availability: Limited and numbered edition of 30 pieces
Register Your Interest
Wei Koh

In 2005, Wei founded Revolution magazine and revolutionized the watch media, which has never been quite the same again. He has since developed Revolution into a multi-media, omni-channel platform with international editions around the world. He is also the creator of The Rake, a magazine of sartorial elegance and craftsmanship for the modern-day gentleman. Journalist at heart and entrepreneur in spirit, his latest venture is Grail Watch, dedicated to the creation of meaningful limited edition watches.
Related Posts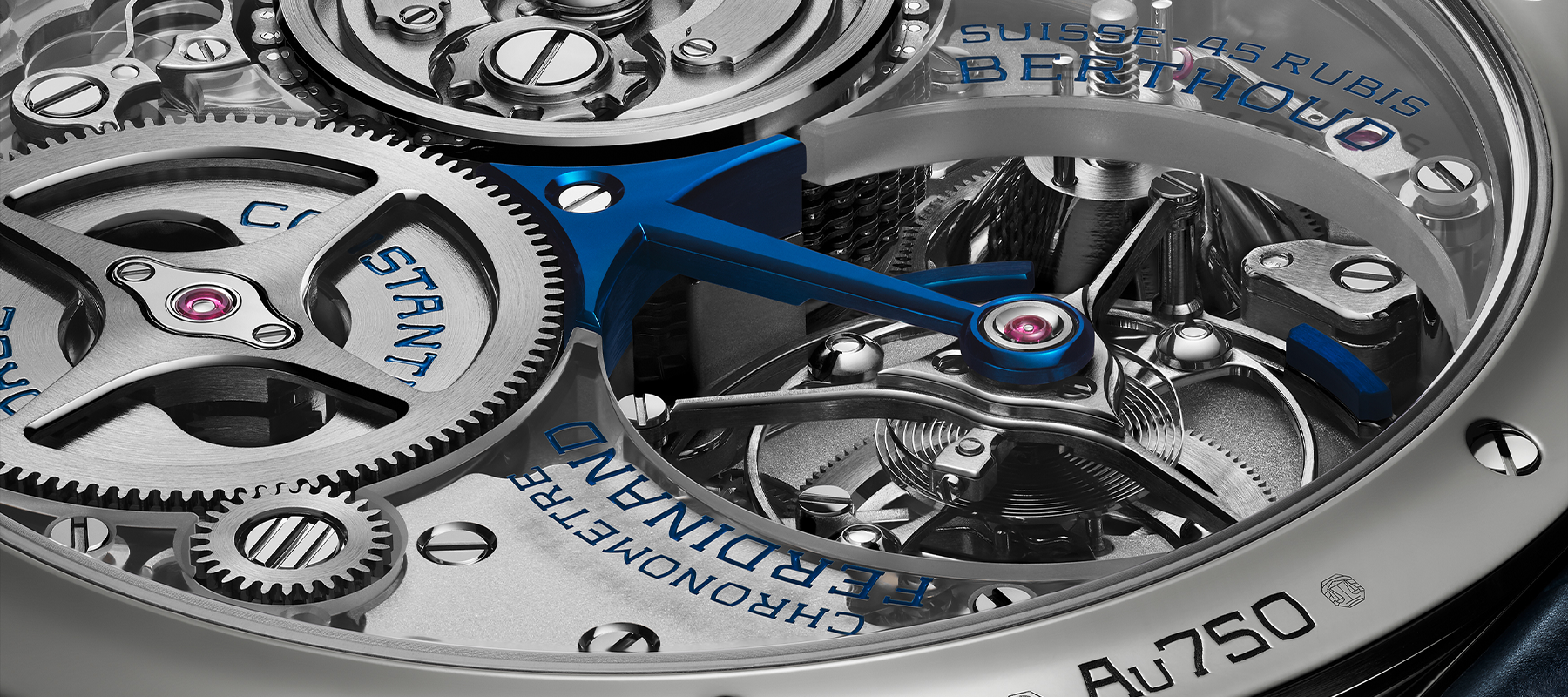 Sep 11, 2023 GRAIL WATCH ADMIN
Learn about the Maltese Cross Mechanism and its many uses in haute horlogerie.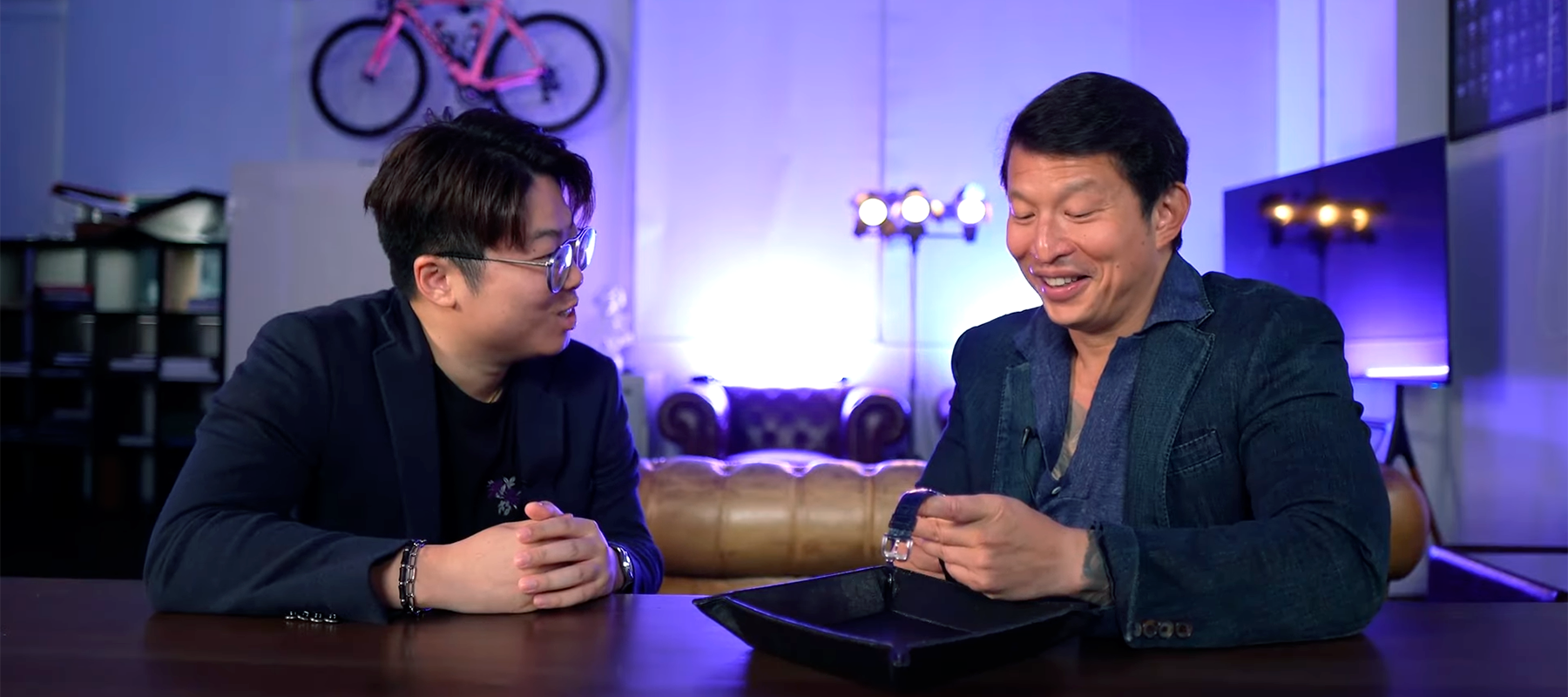 Aug 24, 2023 GRAIL WATCH ADMIN
Join Wei and Constant as they embark on a journey to relive the captivating story behind the creation of the Grail Watch 10: Ludovic Ballouard Et Fils Upside Down 'Series Gaga'.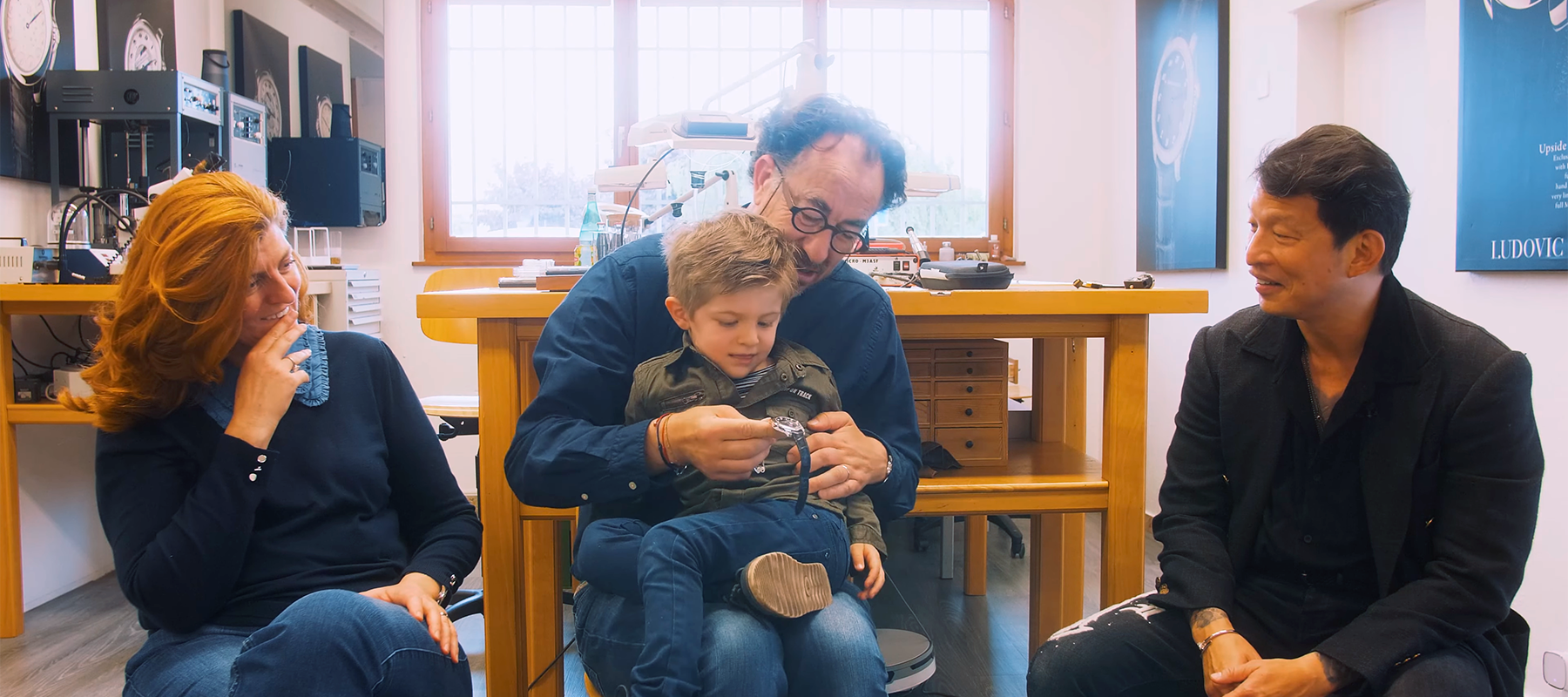 Aug 23, 2023 GRAIL WATCH ADMIN
Wei is in conversation with Ludovic Ballouard to talk about Grail Watch 10: Ludovic Ballouard Et Fils Upside Down 'Series Gaga' that holds special significance as it serves as a tribute to Ludovic's son, Gabriel, the gift from the universe as mentioned by the esteemed watchmaker.