16 December, 2022
GRAIL WATCH 3: Trilobe Une Folle Soirée "WIld Night"
With Une Folle Journée, Trilobe emerges as one of the most vibrant creators of horology as artistic expression. Grail Watch has the pleasure of collaborating with them on a fully luminous version of this extraordinary timepiece.
WORDS WEI KOH
Massonneau's design for Grail Watch has given birth to the Une Folle Soirée, a spectacular timepiece with one of the most distinctive luminous signatures ever seen on a watch
I often use the following analogy when describing the evolution of the watch from a precision device to an object whose primary function is to give its wearer emotion: Previous to the Quartz Crisis, a watch's primary purpose was to give time as accurately as possible. In this history of watchmaking, accuracy was prized above all else because it was fundamental to the global expansion of European colonies, key to the efficient and safe running of America's railway system, and even ensured the safe return of the astronauts of Apollo 13 when all their electronic systems failed onboard their spacecraft.

The story of John Harrison and the creation of the world's first marine chronometer — a watch so accurate that it allowed sailors to correctly ascertain longitude while at sea — is one of the most heroic fables in human history. The desire to be more accurate has been behind the most significant horological milestones, from Christiaan Huygens' invention of the balance wheel to Breguet's tourbillon patented in 1801, to Harrison's creation of the remontoir d'egalité. Accordingly, watch brands would do battle even into the late 1960s at the observatory trials of Neuchâtel, besting each other by mere fractions of a second to lay claim to the title of the most accurate brand in the world.
John Harrison's prize-winning H4, the first true marine chronometer and one of the most important timekeepers ever made (Image: Royal Museums Greenwich)
But then the Quartz Crisis came, and the world was flooded with inexpensive hyper accurate watches with electronic oscillators that vibrated at a staggering 32.768kHz. Instantly, accuracy was totally democratized and the mechanical watch lost its primary raison d'être. Interestingly, a similar thing happened in the art world in the 19th century with the invention of the camera. Previous to the camera, the value of an artist and his work was based on how well he or she could portray reality. Of course, this could be accomplished with the extraordinary emotional expressiveness of Michelangelo and Bernini, or with the transcendent use of color as in the case of Titian, or the subtly detailed nuances of Rembrandt. In general, the lifelike replication of native reality was the yardstick by which artists were judged. But once the camera democratized reality, the first significant artistic movement to emerge was Impressionism, which was about the conveyance of emotion and the sublimation of reality as refracted through the eye of the artist.
Grail Watch 3: Trilobe Une Folle Soirée "Wild Night"
Similarly, when mechanical watchmaking started to regain traction in the late '80s and '90s, the function of the watch had shifted. Its primary purpose was no longer to give time with greatest accuracy, but to endow its owner with emotion. Towards the end of the '90s, several rebellious watchmakers set out to transform time telling into a purely expressive artistic language. Chief amongst these were Urwerk, created in 1997 by Felix and Thomas Baumgartner and Martin Frei, and Ulysse Nardin which, with the Freak launched in 2001, transformed time telling into a type of mobile sculpture or kinetic art. In 2005, Max Büsser created MB&F, a brand with a wonderfully inventive take on time-telling art. And while many different brands since then have tried to capitalize on this type of watchmaking, not many have endured. Even fewer new brands have made a distinct impression on this space with any true lasting effect and authentic originality in voice. Indeed, in the last decade and a half, to my mind, it is only Benoît Mintiens with his extraordinary brand Ressence born in 2010 and Gautier Massonneau with his brand Trilobe created in 2018 that truly resonate today.
The Story of Trilobe

Above, from left: Gautier Massonneau, founder of Trilobe; Volcy Bloch, the brand's executive director
Gautier Massonneau and Trilobe's story is an interesting one. Like Mintiens, he doesn't come from the watch world at all. He grew up amongst the worlds of architecture and interior design as these were his parents' métiers. But when he came of age, Massonneau's instinct was to pursue a career in finance at the French bank Natixis. This period of his twenties was characterized by an intellectual restlessness that had him seeking to do more. When it came time to purchase his first serious watch, he found himself frustrated. Between rupture and continuity, he aspires to create a watch that is different yet timeless and classic in its design. The Trilobe watch was born from the desire to explore the field of possibilities in the watchmaking industry.

He recalls, "For me, there was always something wonderfully compelling about watches like A. Lange & Söhne's Zeitwerk, which features a jumping digital display for time. I loved how it took a radical departure from the sometimes rigidly prescriptive iconography of a traditional watch dial. I also loved François-Paul Journe's Vagabondage as a timepiece that transformed civil time into artistic expression. But, of course, all of these watches were far out of reach for me financially. The more I thought about it, the more I became obsessed with creating my own personal interpretation for time telling."
Grail Watch 3: Trilobe Une Folle Soirée "Wild Night"
Fortunately, Massonneau proved to be a prodigious autodidact with the capacity to learn at an accelerated pace as he devoured articles on watchmaking and, in particular, timepieces that straddled the boundary between objet d'art and precision instrument. At night, before he went to sleep, a vision grew with increasing clarity and intensity. Massonneau saw time liberated from traditional hands. Instead, he envisioned disks or rings, three in total — one each for the hours, minutes and seconds, each rotating counterclockwise with fixed indicators tracking their course. Says Massonneau, "Traditional watches display time in a way that is ordered and empirical, as if everything is compartmentalized and structured. I wanted to create a watch that liberated time from this cage, and that allowed you to revel in time as a pure pleasure." With this three-part system for telling time in mind, a name was also born: "Trilobe," with a logo in the shape of a distinct trefoil, a universal and timeless architecture symbol.

As it happened, Massonneau met the person who would have a major hand in the realization of his dream — Volcy Bloch. Massonneau understood that to create his brand he would need a strong head of communications and offered the role to Bloch. She says, "I had worked for 20 years in a big group [Bloch worked for perfume and cosmetics brand Marionnaud, owned by the A.S. Watson Group and, prior to that, was with Piaget] and felt it was time for a change, but I was struck by Gautier's intelligence, enthusiasm, passion and inventiveness."

Next, Massonneau had to find someone who could help bring his vision to life. For this, he had to follow the footsteps of the Huguenots and make a sojourn over the Alps to his neighboring country. His pilgrimage to Switzerland eventually brought him to Chronode, the workshop of the talented Jean-François Mojon. If the name sounds familiar, that's because he's the man behind Max Büsser's Legacy Machine No. 1. He also co-created the detent escapement watch for Urban Jürgensen, together with his friend Kari Voutilainen, and is the designer of Harry Winston's Opus X. In recent years, Mojon has been behind the incredible split seconds chronograph movement used by Czapek for its Antarctique Rattrapante. Together, they sat down and discussed Massonneau's idea. What was meant to be a 30-minute meeting turned into a five-hour conversation. "I missed my flight home," recalls Massonneau with a laugh.
Les Matinaux and Nuit Fantastique
Trilobe's X-Centric caliber defies the codes of traditional watchmaking with its multi-level concentric ring concept
Mojon loved Massonneau's vision for three counterclockwise rotating rings with fixed indicators. After initial development with Mojon, Massonneau also worked on further development of his base caliber, the X-Centric, with Cercle des Horlogers, one of the major rising stars in the world of complication specialists. This movement, whose architecture is stunning to behold, features an ultra efficient tungsten carbide micro-rotor. It also features a 4Hz vibrational speed with torque from the barrel optimized to drive the disks that are at the core of Massonneau's expressionist time-telling vision. The other thing that was important to Massonneau was that every aspect of his watch was finished to a high degree. Finally, for him, the size of his watches was of critical importance. He explains, "No matter what, I absolutely did not want to create something larger than 41mm. I felt that we had very much embraced a renewed era of classic proportions and sizes, and that many of the more adventurous watches today are simply too large for current tastes. I wanted my watches to be elegant."
Trilobe's first watch, Les Matinaux, in sunray silver
He continues, "Our first watch I named Les Matinaux after a book of poetry by René Char. In English, this means 'The Dawn Breakers,' which I thought would be a great name for a first watch. Char is an incredible character, a hero of the French Resistance and a key figure of the Surrealist movement, and possibly the most important French poet since Rimbaud. His writing paves the way for hope and boldness."
Refined in its simplicity, Les Matinaux is a poetic take on horology that proclaims Trilobe's philosophy of always going forward with hope and boldness
Says Bloch, "We presented Les Matinaux in December 2018 at our official launch at the Musée des Arts et Métiers in Paris, and we were very inspired by the positive feedback we received. People loved that we defined a new way to tell time in a poetic and liberating way. But they also liked the size of the watch at 40mm and the quality that we insisted on."

Says Massonneau, "It was important that people felt we had created a watch with real integrity and authenticity, beyond it being fun and different. On the dial of Les Matinaux, we see three counterclockwise rotating rings. At the very perimeter, we have the ring for the hours. Next, and oriented asymmetrically to the bottom left, we have the ring for the minutes. And finally, all the way to the interior, we find the skeletonized disk for the seconds. Beside each of these disks is a trilobe that acts as the respective fixed marker.

"Things are not always what they appear to be… You may see a dial, but the reality is much more complex, and this is how it works: time is put in motion through three eccentric rings rotating counterclockwise. This singular time display device, composed of five, four or three parts depending on the collection, forges a technical bond between the dial on the front and the X-Centric caliber on the back. This is what makes the strength of Trilobe's innovation: the dial is intrinsic to the movement, which alone makes it possible to free time.
This movement can be viewed through the sapphire casebacks of Trilobe's watches
"A real technical challenge is in the equilibrium of forces, searching for the perfect balance between the force of an unusually strong spring barrel required to put the dial in motion, and the finesse of the perfectly concentric, leveled lower rings engineered to guarantee their smooth travel on the dial. With this dual complication, Trilobe extends the boundaries of watchmaking and gives a new meaning to the traditional decorative dial."

Nuit Fantastique, seen here in a sandy "Dune" dial, brings a pure and unadulterated time-telling experience
As their watch continued to gain critical momentum and a cult following, Trilobe launched their next timepiece in 2021. Says Massonneau, "In Nuit Fantastique, which translates as Fantastic Night, I wanted to create a watch with the same basic time-telling indicators, but now reduced to a total purity and simplicity in expression. In this watch, everything is ordered to align vertically — the Trilobe trefoil indicating the hours is at 12 o'clock and the 'trilobe' that tells both the minutes and seconds is displaced slightly to the left but is also vertically oriented. To create a rich vintage themed element, we used frosting over much of the surface area of the dial, and I really like the dynamic tension this creates between the modern way of telling time contrasted by this detail."
Nuit Fantastique Secret
Says Bloch, "I think collectors and press were pleasantly surprised to see how Gautier could extrapolate his design language into two complementary but total distinct models. Les Matinaux is bold and exuberant, while Nuit Fantastique is contemplative and charming."
The wildly original Une Folle Journée, presented at Watches and Wonders 2022, catapulted Trilobe to the realm of the horological heavyweights
Not content to launch two equally appealing models, Massonneau decided to add the secret dial subcategory to both watches. It is an invitation to immortalize a precious moment in a poetic way. Each dial is personalized and made bespoke with a map of the sky charting the stars from the day, time and place that are dear to you. Massonneau has a watch customized in this way for the moment he proposed to his wife. "For myself and an increasing segment in watch collecting, the idea of personalizing a watch in a really meaningful way, beyond simple engraving of initials or a date, has become really appealing and I wanted to fulfill this demand," he explains. "For me, the fact that the meaning of the custom-made sky is hidden in the stars and only known by the wearer embodies this idea of luxury for oneself. An intimate piece with a strong and emotional meaning that only resonates in the heart of the wearer."
Une Folle Journée
While Les Matinaux and Nuit Fantastique established Trilobe as an exciting young brand with bold ambitions and strong substance, their next watch would transform them into one of the hottest names in modern watchmaking. I remember visiting Massonneau and Bloch at their office in Paris late last year. They showed me an early rendering of a watch that would be called Une Folle Journée, or "A Crazy Day" in English. I looked at them and replied, "This watch will change everything. It will make you so insanely popular that you will struggle with supplying the insurmountable demand for it and make you one of the most exciting brands today." Because what I saw was a watch of staggering beauty, expressing a clearly articulated vision with a voice that was totally unique. How can I describe Une Folle Journée? Imagine the three primary time-telling disks of Les Matinaux now powered by an alien force field, so that they levitate off the dial and are retained only by the canopy of domed sapphire crystal. Une Folle Journée takes the language of Trilobe and explodes it into the third dimension and beyond.
Grail Watch 3: Trilobe Une Folle Soirée "Wild Night"; Achieved through a clever play on geartrain arrangement, the hours, minutes and seconds are displayed on three concentric rings that rotate counterclockwise on different levels and are indicated by a single, fixed pointer at six o'clock. The time is 6 hours 28 minutes and 24 seconds; Developed in partnership with Le Cercle des Horlogers, the creatively constructed movement dubbed the X-Centric is wound by a micro-rotor visible through the sapphire case back.
In 1959, Miles Davis released his sixth album with Columbia Records, between Porgy and Bess and Sketches of Spain. Named Kind of Blue, it was a work of immense mastery and originality — the modal approach to jazz played within a certain scale instead of a fixed sequence to allow for greater improvisation. Kind of Blue was the greatest achievement of modal jazz of all time, improvising on a seven-note sequence to create a Valhalla of sonic beauty. In the words of the BBC's Chris Jones, "Quite simply, the sonic space it creates sounds like the coolest place on the planet." I will now co-opt Jones' statement to say, "Une Folle Journée and the visual effect it creates looks like the coolest place on the planet" — that's how enamored I am with the watch.

Says Massonneau, "The watch follows our initial concept but now fully engaged in three dimensions. The outer hour ring, the minute ring and the inner most seconds ring are all crafted from titanium to make them all as light as possible. Because they are now all elevated on pillars to rise above the surface of the baseplate at increasing heights, the effect is that of a dome." Indeed, Massonneau had to find a special Japanese supplier for the domed sapphire, which is then finished in Switzerland to contain the incredible amphitheater and mechanical microcosm within.
Grail Watch 3: Trilobe Une Folle Soirée "Wild Night"; The titanium rings are elevated by pillars, creating significant dimension that is topped off by a prominently domed sapphire crystal
Unleashed at the 2022 Watches and Wonders, the first proper physical watch fair since the onset of the pandemic, it is fair to say that Une Folle Journée blew the roof off Geneva's Palexpo. Crowds of people constantly surrounded Trilobe's small booth situated at the fair's Carré des Horlogers. And it was amazing to see my friend, industry legend, ex-Piaget boss and, I presume, Trilobe shareholder, Philippe Léopold-Metzger, showing the watch to retailers and press alike, all of whom were jostling for space to set their eyes on this incredible timepiece. The energy at this booth was simply electric. Said Massonneau then with a content but exhausted visage on the last day of the fair, "The response has been beyond our wildest dreams."

Bloch added, "Our biggest challenge will be anticipating how to fulfil demand in the best timing." Now, understanding the insurmountable demand for all Trilobe watches and, in particular, Une Folle Journée, the question is, of course, how is it that Grail Watch was able to secure a 25-piece limited edition based on this model?
Grail Watch 3: Trilobe Une Folle Soirée "Wild Night"; Despite it being 40.5mm in diameter with a thickness of 17.8mm, and aggressively domed, the watch sits closely and comfortably on the wrist
The answer is simple. One year ago, the moment I set eyes on the rendering of Une Folle Journée, I knew without hesitation that this watch would radically change the fortunes of this already successful brand. That its sheer beauty and originality, coupled with its wearability and attention to detail, would make it one of the biggest hits of the year. And I knew without an iota of doubt that I wanted to collaborate with Massonneau and Bloch on a watch to celebrate their elevation to the ranks of the horological heavyweights.
Une Folle Soirée
So what is Une Folle Soirée and how does it differ from Une Folle Journée? Translated into English, it means, "A Wild Night," and is inspired by the Van Morrison song of the same name. My first impression when setting eyes on Une Folle Journée was of three UFOs in a coordinated flight pattern landing on the surface of a planet. And I knew immediately that I would love to see this featuring a maximum light show when the watch was in an ambient or dark setting.
The generous application of Super-Luminova emphasizes the complex and unusual dial architecture, offering one of the most immersive light shows seen in a watch
Those of you that have followed the development of Revolution and The Rake's limited edition watches know that the luminous signature of a watch, or the pattern of light it emits in the dark, has been a long-term obsession for me. This began with the Bvlgari Octo Finissimo "White Light" with its fully luminous dial in 2019, which we followed up on with a black ceramic model with an even more reactive dial named the "Nuclear Option." For our Zenith A3818 Revival "Airweight Cover Girl" launched in 2020, to distinguish the new watch from the vintage models, we made all the chronograph indications luminous. We then launched the Bamford GMT watch in 2021 with a luminous Snoopy in "Joe Cool" guise that came in a luminous doghouse. I also have the pleasure of owning the first ever Cartier Crash made with a luminous dial. There have been others that have played with this theme in their limited editions, but I feel that we have focused on it the most consistently. So, to say luminous signature is my thing is fair.
Let there be light
Massonneau grinned when I explained my idea to him. "Give me some time to work on this," he said. A few weeks later, incredibly, he had come up with the design for the watch after consulting with his partners to ensure that all parts would be functional and reliable. When I looked at his rendering, I was simply blown away. He had coated the edges of the baseplate of the watch so that it was luminous, and applied luminous material to the disks so that they truly looked like a three-spaceship armada landing from alien distant shores on the watch. Said Massonneau, "This was the hardest part to figure out because Une Folle Journée shows all the gear train that drives these three disks and the clearance to the baseplate from these wheels is minimal. So we had to be very precise in the application of luminous material here."
The dial and movement are virtually indistinguishable whereby the architecture of the movement plays a central role in the overall design of the watch
The result is simply spectacular. Our resulting watch with a case in grade 5 titanium is 40.5mm in diameter with a thickness of 17.8mm, though this shape is aggressively domed and the watch wears much thinner and effortlessly on the wrist. It features a screw-down crown and is water resistant to 50 meters. Its deconstructed display of time features three DLC-treated titanium disks that are mounted on pillars so that they hover in over the dial. The precision of the pad-printed numerals on the concave curved rings highlights an exceptional watchmaking know-how. A pointer enables a direct reading of the hours, minutes and seconds.
There you have it; a watch in which aesthetics and mechanics are seamlessly integrated to emphasize the fluidity of time while offering an immersive animation when the lights go out
Step into darkness and the watch simply ignites on your wrist, giving another dimension to the thrilling artistic expressiveness of Trilobe. It will be made in just 25 examples and I would like to take this chance to thank Gautier Massonneau and Volcy Bloch for the opportunity to work with them. The resulting watch is a timepiece of arresting beauty and design daring — a savage nocturnal animal — and I absolutely love it. I hope you do too.
The Trilobe Une Folle Soirée "Wild Night" is presented in an equally distinctive, egg-shaped case, along with a user manual and a microfiber cloth
TECHNICAL SPECIFICATIONS
TRILOBE UNE FOLLE SOIRÉE "WILD NIGHT"

Movement: Self-winding caliber Trilobe X-Centric; 48-hour power reserve
Functions: Hours, minutes and seconds displayed by rotating rings and a fixed pointer
Case: 40.5mm; grade 5 titanium; water resistant to 50m
Dial: DLC-treated titanium rings with luminescent coating
Strap: Alligator leather; additional suede leather with titanium pin buckle
Price: EUR 22,000
Availability: Limited edition of 25 pieces
Wei Koh

In 2005, Wei founded Revolution magazine and revolutionized the watch media, which has never been quite the same again. He has since developed Revolution into a multi-media, omni-channel platform with international editions around the world. He is also the creator of The Rake, a magazine of sartorial elegance and craftsmanship for the modern-day gentleman. Journalist at heart and entrepreneur in spirit, his latest venture is Grail Watch, dedicated to the creation of meaningful limited edition watches.
Related Posts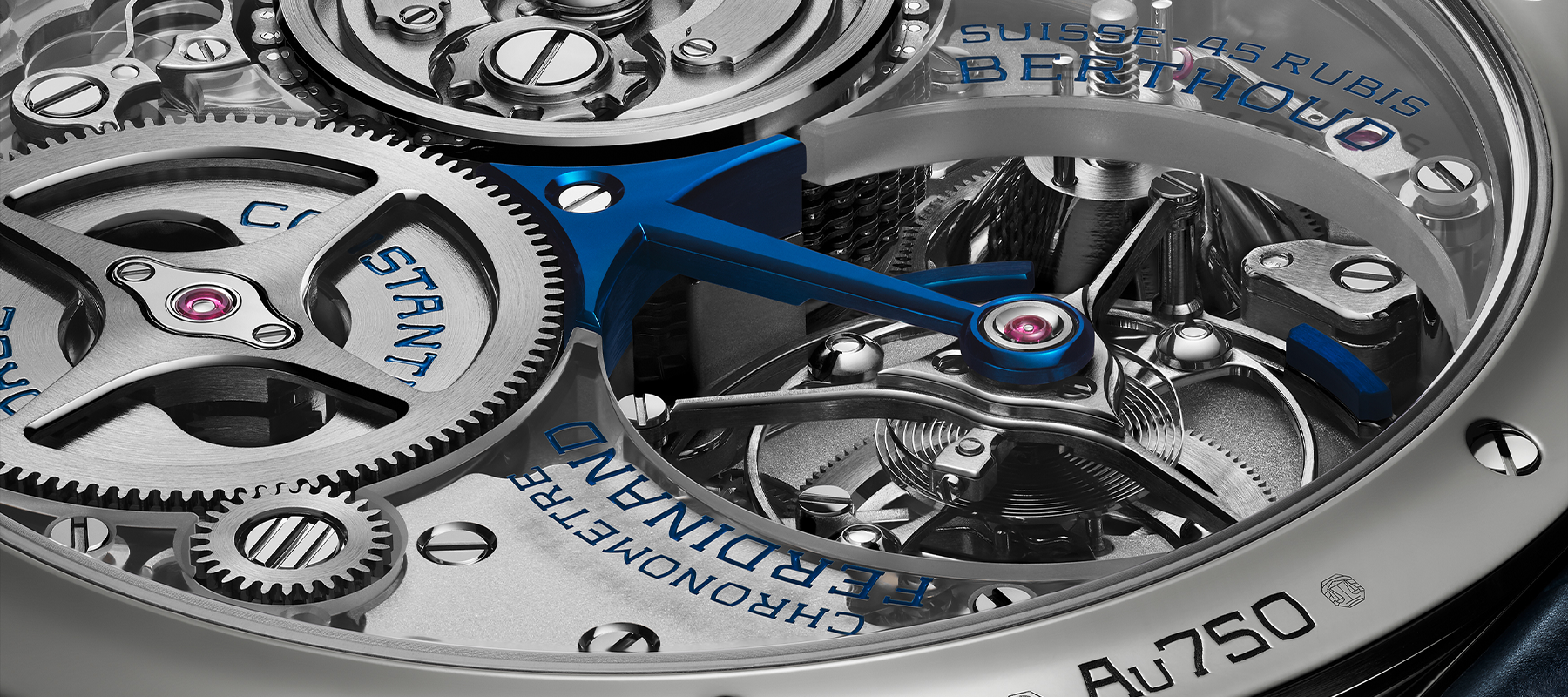 Sep 11, 2023 GRAIL WATCH ADMIN
Learn about the Maltese Cross Mechanism and its many uses in haute horlogerie.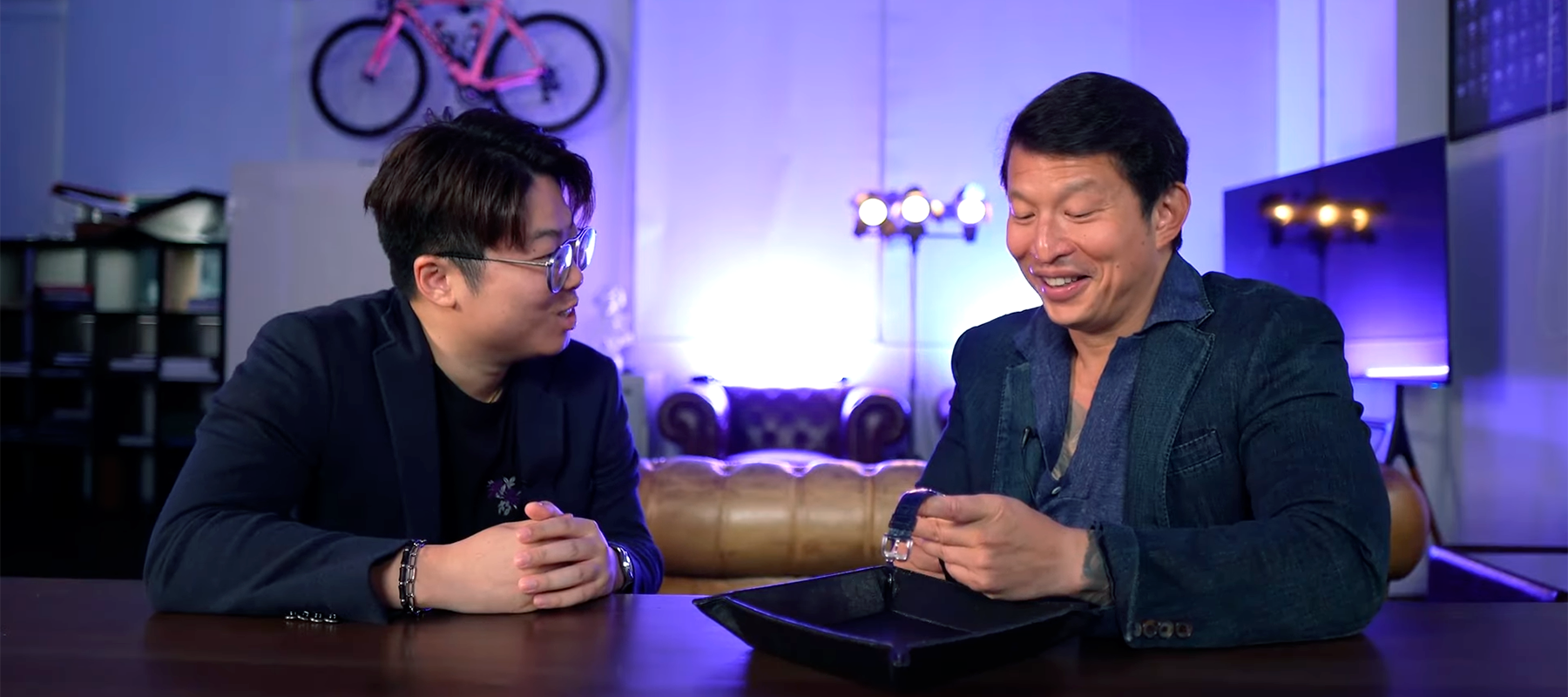 Aug 24, 2023 GRAIL WATCH ADMIN
Join Wei and Constant as they embark on a journey to relive the captivating story behind the creation of the Grail Watch 10: Ludovic Ballouard Et Fils Upside Down 'Series Gaga'.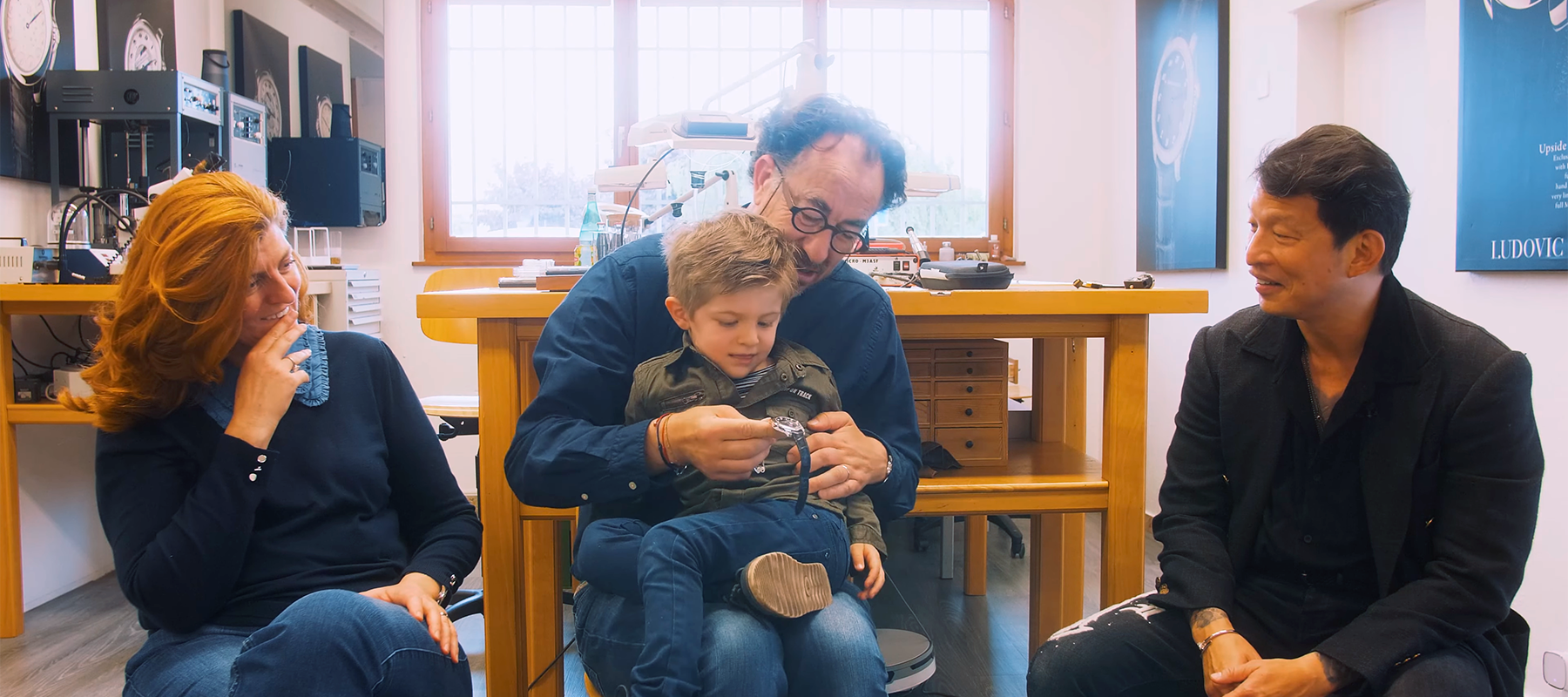 Aug 23, 2023 GRAIL WATCH ADMIN
Wei is in conversation with Ludovic Ballouard to talk about Grail Watch 10: Ludovic Ballouard Et Fils Upside Down 'Series Gaga' that holds special significance as it serves as a tribute to Ludovic's son, Gabriel, the gift from the universe as mentioned by the esteemed watchmaker.